UEFA Champions League
San Iker is back! The rebirth of Real Madrid legend Casillas at Porto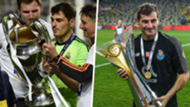 When a 34-year-old Iker Casillas waved a tearful goodbye to Real Madrid in 2015, many believed they would never again see the best of one of football's greatest goalkeepers.
His career as a whole was then thrown into doubt when the Spaniard lost the number one spot at Porto midway through last season.
But now, first choice again at the Portuguese club, the 37-year-old is enjoying a late resurgence and is one of the form goalkeepers in the Champions League ahead of a last 16 showdown with Roma.
It was just eight Primeira Liga games into last season when Casillas found himself out of favour.
"I can't close my eyes on two weeks of training that did not reach my expectations," coach Sergio Conceicao told the media. "Iker didn't train with the energy that I demand."
For 20 games the World Cup winning shot-stopper was out of the starting XI, with him not even making the squad on one occasion.
But this was nothing but a minor setback for a man who was publicly criticised by Jose Mourinho and then forced out of Real Madrid by Florentino Perez, something which even former Barcelona man Xavi told the Guardian left "a bad taste".
"Just as Casillas can say he would prefer another coach such as [Vicente] Del Bosque or [Manuel] Pellegrini, I can say that I prefer Diego Lopez," Mourinho told the press during his time in Madrid. "And while I'm the coach of Madrid, Diego Lopez will play."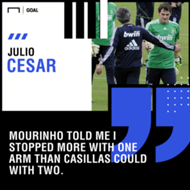 Many years on from the end of one of the most toxic relationships football has seen, details continue to emerge regarding Mourinho and Casillas' feud.
Last year, Brazilian goalkeeper Julio Cesar, coached by Mourinho at Inter, revealed that the Portuguese native slated Casillas in a message after the Confederations Cup in 2013: "He told me I stopped more with one arm than Casillas could with two."
Then, when Casillas stated he never had, but he wished he'd confronted his former boss at Madrid, Mourinho called him a liar and said: "It looks like an interview with someone who is at the end of his career."
But while Jose may still hope to see the demise of one of football's greats, Casillas is showing that he won't go away easily.
"He's the first person to face the music when things aren't going well," Franco Tancredi, his goalkeeping coach at Real Madrid in the 2006-07 season, told Marca. "He's a training fanatic, a sportsman with no clear weaknesses who doesn't say much and lets his actions do the talking."
When Casillas does speak, he proves Tancredi right: "The coach had his reasons," he admitted after being dropped at Porto. "It is sometimes a stimulus to see your teammates from the outside, because it creates an obstacle. I've always enjoyed obstacles in my life."
Few, if any, goalkeepers have faced the obstacles that he has. But, as he did in making 47 appearances in his final season at Madrid after a combined 54 in his previous two, he has come back fighting in Portugal.
Casillas ended last season as first choice again, helping Porto win the league for the first time since 2013 as they bid to become Portugal's dominant force again. Benfica had claimed four successive titles before that.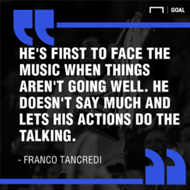 He's played 20 games for the league-leaders this season, keeping 12 clean sheets. In the Champions League, he helped Porto top their group, while also making history by becoming the goalkeeper with the most penalty saves in the competition with his stop against Lokomotiv Moscow's Manuel Fernandes.
Casillas also joined an exclusive club of players to win 100 games in Europe's elite tournament, one which only he and Cristiano Ronaldo are members of.
Having debuted in the Champions League at the age of 18 almost 20 years ago, his longevity can be rivalled by very few. And his passion and enthusiasm certainly isn't dwindling either.
"My objective and my intention is to win titles and to help Porto to continue to be an important club in Portugal and respected in Europe," Casillas told Esporte Interativo.
When the goalkeeper left Real for Porto on tearful terms in 2015, Xavi said: "Away from [Madrid], they will appreciate him more."
With his ambition and form reminiscent of his days at the Bernabeu, Casillas is certainly appreciated at Porto.
And should he help them reach their first Champions League quarter-final in four years, he'll be appreciated even more.