Salisu Yusuf: Super Eagles have shown a lot of character
Coach Salisu Yusuf says Nigeria have shown more character at the ongoing African Nations Championship, and as such, stand a chance in the final.
READ: Yusuf's calm aura underpins Nigeria success
The Super Eagles bounced back from a goal down to defeat Angola 2-1 after extra-time in the quarter-final before piping Sudan1-0 in the last four despite playing with ten men.
They face hosts Morocco in the final on Sunday, and the tactician discloses he will devise a means to stop the Atlas Lions who boast of a robust ariel prowess. Aside from that, he is optimistic his players can live up to expectation despite their injury worries.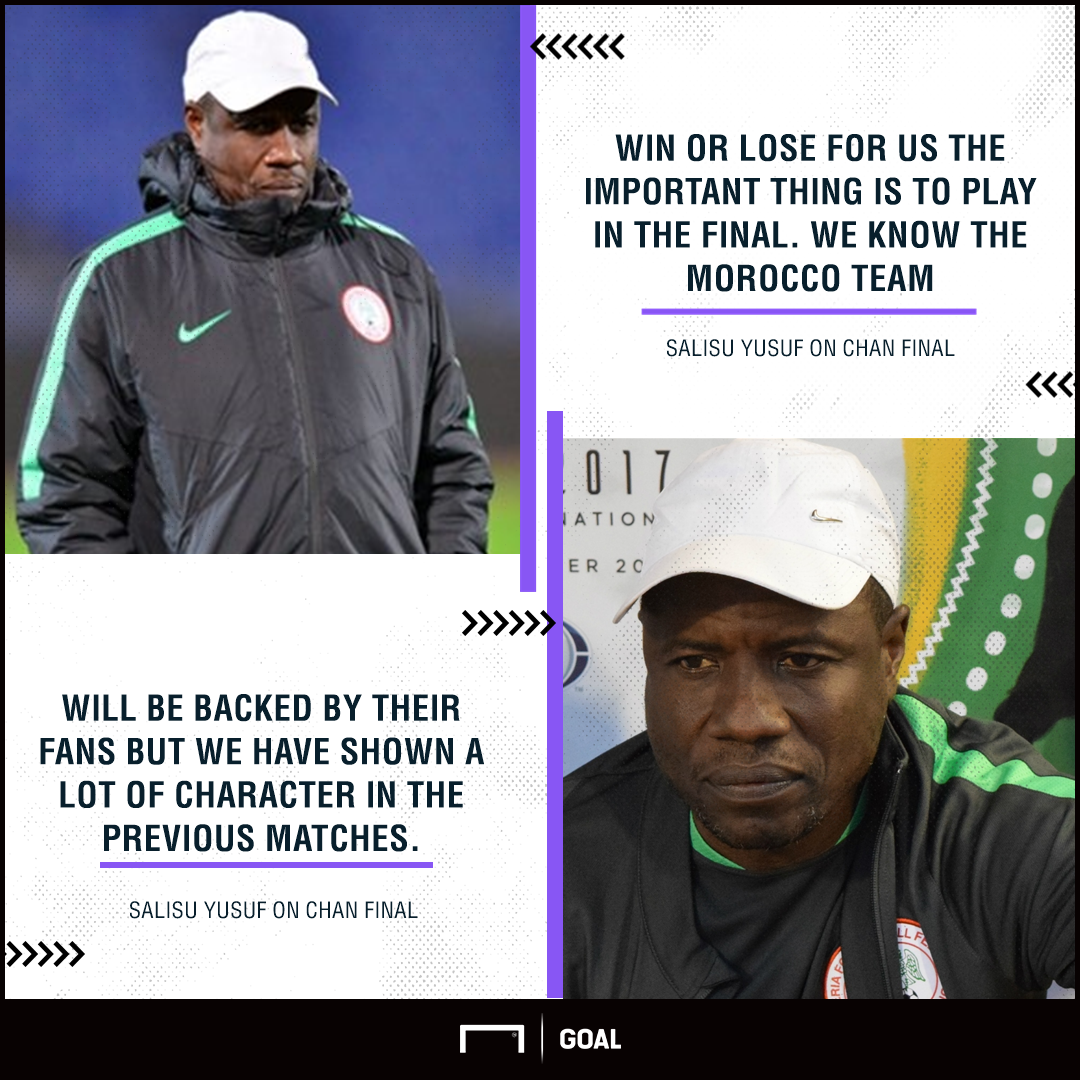 "Playing against the hosts who will have their fans behind them as the 12th player. It will be a good game because we all have been great and will have 11 players on each side," Yusuf told media.
"We know they have great players who are very strong in the air and we will devise a way to stop them.
"It has been a great tournament for us we have played in all venues and tomorrow we will have Casablanca added to it. We have injuries in the team with Ikechukwu Ezenwa and Sunday Faleye but we will see how it goes.
We are ready for the battle. We count on the Nigerian spirit again as we aim for the big prize🏆 #CHAN2018 #NPFL18 @thenff @NGSuperEagles pic.twitter.com/cRsrkE0sOT

— Salisu Yusuf (@yusufsalisu038) February 3, 2018
"Win or lose for us the important thing is to play in the final. We know the Morocco team will be backed by their fans but we have shown a lot of character in the previous matches.
"I believe in every member of my players here because they've shown that they're all ready if given the opportunity. We want to win because we deserve to be here."
To reach the final, Morocco edged Libya 3-1 after extra-time. Jamal Sellami's side have scored 12 in five matches with eight of them coming from Ayoub El Kaabi.