Real Madrid v Liverpool
Salah's tears sum up Liverpool's heartbreak as European glory eludes Klopp's men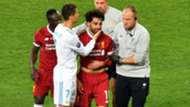 Sometimes, words are not enough.
Not enough to explain the majesty of one goal, or the absurdity of another. Not enough to explain one man's tears and another's genius. Or another's nightmare.
Words offer little solace to Mohamed Salah or to Loris Karius or to Jurgen Klopp, or to any of the thousands of supporters who travelled to Kiev to see Liverpool crowned European champions, but left only with their pride and their songs and their sadness. Words only tell you what could have been, but wasn't. Words fall short.
There will be two defining images of this Champions League final. Real Madrid will see Gareth Bale, six feet in the air, producing one of the most incredible goals this competition has witnessed. Fit to win any game, any trophy. Absurd, brilliant, remarkable, devastating.
For Liverpool, the memories will be sour ones. They will recall Karius' errors, those inexplicable howlers which gifted the game to the opposition. The German will need every ounce of courage, self-belief and drive he possesses to come back from this; it was a horror movie, screened to the whole world.
The other image, though, will be that of Salah, tears streaming. Cruel? This game can be brutal when it wants.
Less than half an hour had passed when the Egyptian tumbled under a challenge from Sergio Ramos. Reaching immediately for his shoulder, he knew it was bad. There was treatment, a brief attempt to play on, and then heartbreak. It was over, this amazing, mesmerising season was coming to an end in the most horrible of fashion. Cristiano Ronaldo's sympathy was kind, but meaningless. What did we say about words?
It would be stretching it to say Liverpool's chance disappeared with Salah down the tunnel, but if you're looking for turning points in a game which had plenty, this was as big as Bale's masterpiece or Karius' shambles.
"There were two games," said Arrigo Sacchi at half time. "The one before the injury and the one after it." Liverpool had started the game well, playing on the front foot and forcing errors from their more experienced rivals. They had chances, they had the ball in good areas, they had a chance.
Then, everything changed. Ramos fouled, Salah went. The pantomime villain got his man. Real were liberated. Liverpool's pressure dropped. Maybe their heads did a little, too. They looked shell-shocked, playing the remainder of the first half as if reduced to 10 men. Real had been sloppy early, but their mistakes carried less punishment with Liverpool's main man out of the picture.
Still, the Reds were in the game until Karius' first 'oh my gosh' moment. It was hard to believe his error which let in Karim Benzema pinch the opener. Sven Ulreich gifted the Frenchman a goal in the semi-final; this was even worse.
Sadio Mane, Liverpool's best player, levelled swiftly and belief was restored. Their supporters sang and they chanted, as they have done all week. They did their club proud, the thousands who made it to Kiev, by hook or by crook.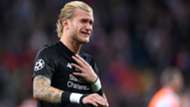 They were left, like everyone, aghast when Bale delivered within three minutes of his introduction as a substitute. Sometimes, you just have to applaud, even when it hurts.
Karius had one more shocker left, fumbling Bale's late strike. Hard not to feel for the 24-year-old, though what the future holds for him now is anyone's guess. That is a debate for another day, but it will need to be had soon.
As for Liverpool, there must be pride in what they have accomplished this season under Klopp. They have made genuine forward strides and produced wonderful memories while doing so.
Sadly, the memories of Kiev will be of the wrong kind. Tears and howlers. No words for now, just hurt.