Chelsea
Ruthless Chelsea and Conte are everything Arsenal & Wenger need to be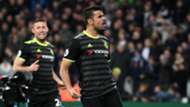 ---
COMMENT
---
As each week passes, Antonio Conte's Chelsea look more and more certain of lifting the Premier League title. Yet another ruthless display on Monday night sent them 11 points clear at the top of the Premier League while providing a perfect lesson to another team in London of just what is required to be successful.
Chelsea struggled for the opening 20 minutes at West Ham but Eden Hazard finished off a lightening counter-attack to make it 1-0 against the run of play. It was one shot, one goal for Chelsea, but there was to be no way back for the hosts.
Lampard: Pogba hasn't delivered yet
Diego Costa made it 2-0 by scrambling in Cesc Fabregas' corner, as he rekindles his early season form with three goals in three games. All now appears to be well for the ex-Atletico Madrid star after he allegedly pushed for a move to China in January in a transfer saga not too dissimilar to what Arsene Wenger is facing at Arsenal with Alexis Sanchez.
As Chelsea continue to fly, Arsenal look on with envy as they continue to be plagued by mental, tactical and defensive deficiencies – all of which were on show during Saturday's comprehensive 3-1 defeat to Liverpool at Anfield. Chelsea have that mental toughness in spades, Arsenal are painfully fragile.
Manuel Lanzini did spoil Chelsea's clean sheet at the death and the Hammers had their moments, but Chelsea were never in danger. Throughout the match, the away team's fans could be heard chanting 'Antonio, Antonio' in honour of their brilliant manager.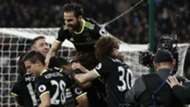 Conte's 3-4-3 stood firm once again to everything West Ham could throw at them. David Luiz, Cesar Azpilicueta and Gary Cahill provide the platform for Chelsea to earn points, while N'Golo Kante is the defensive midfielder that Arsenal fans have been dreaming of for years. 
The French midfielder was, yet again, the man of the match for Chelsea and stood up to West Ham's battling reputation with an assured performance both offensively and defensively. 
Every single Chelsea player knows their job and is moving in the same direction - as they exploit their gaps between games without European football to master a formation that they had never played until Conte arrived. 
Chelsea don't have a world class player in every position but Antonio Conte has made several of his players better with his coaching methods and formation. The likes of Gary Cahill, Marcos Alonso and Pedro have added to their game and look better than ever.
Victor Moses has learned a new position with Cesc Fabregas developing the physical side of his game to emulate Nemanja Matic's strengths, while retaining his technical magic. He has fought to take his place back off the Serbia international and has more assists than last season already - despite far fewer minutes on the pitch.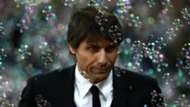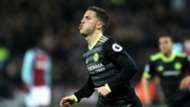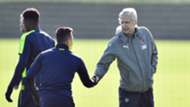 The squad is little different to the one that finished tenth last season, but Conte's personal touch has rebuilt confidence. He may look like a raving lunatic on the touchline, but he is gentle with the players who need him to be.
Arsenal, in comparison, are plagued by chaos. Conte has proven to be better than Wenger at coping with a crisis, as he showed after Costa was unsettled by a bid from Tianjin Quanjian in January.
Alonso and David Luiz were written off as desperation signings on deadline day, but both have arrived to work with a manager at his peak. Conte has added new weapons to their armouries and they may count their meeting with the former Juventus boss as pivotal in their careers.
How Maradona almost signed for Madrid
Kante chose Chelsea, despite many Champions League clubs going after him, due to "the capacity of the manager" and that decision is looking a very wise one.
This is under-pined by Hazard's genius as he gets back to his best, becoming Chelsea's 20th top scorer of all time on Monday night. Costa's 17th goal of the season outlined his importance and he looks set to be the fifth quickest player to reach 50 goals with his next strike.
Chelsea are a club with a secure and bright future, while the other giants of London are in turmoil as they risk losing Alexis, Mesut Ozil and Wenger this summer.
The Blues finally have found a manager they can stick with – one who is dynamic and modern, unlike the stale and outdated Wenger.
Conte barely knew how to speak English one year ago and he now dominates the top tier of the oldest league in the world. If only Arsenal and Wenger spoke his footballing language.