World Cup
Russia Diary: Vivo providing football fans unforgettable experiences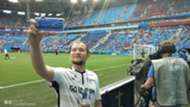 Vivo, one of the world's largest mobile manufacturers, has a deal with FIFA, enabling it to team up with three of the world's most popular football tournaments - the 2018 World Cup, the Confederations Cup 2021 and the 2022 World Cup.
Vivo brands and logos will be displayed at every game on billboards, match tickets, background press conferences, and in other key promotional areas.
The move certainly makes the name Vivo - who is also a major sponsor of Indian Premier League - prominent in a very competitive smartphone market. 
Vivo, one of the five best smartphone brands in 2017, actively seeks to realise the dream of the majority of football lovers which is watching the World Cup directly.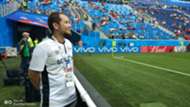 They select fans to fly to Russia through various promotional activities in every country. For example, there was a competition to be the Vivo Super Fan while in Russia, Vivo has specifically invited YouTube sensation Timur Sidelnikov to create content. 
It is believed that a total of 128 fans have been invited by Vivo across the tournament until the final. 
To the lucky fans, Vivo provides a range of services – from accommodation to flight tickets, match tickets, inter-city transportation as well as food and beverages.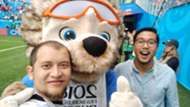 Fans arriving alone to the Domodedovo airport, Moscow, from their countries of origin were greeted by Vivo representatives. 
The biggest opportunity for these fans was when they were allowed to enter the playing field at the 2018 World Cup as a Vivo Super Fan photographer.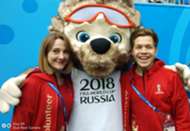 To perform his/her duties as a photographer inside the stadium, every fan is given full equipment from T-shirts, jackets, knick-knacks and also the Vivo V9 special edition World Cup smartphone.
The author of this article was indeed one of them and was able to get on to the pitch when Morocco and Iran locked horns at the Zenit Arena. You are assisted by several volunteers and then greeted by the World Cup mascot Zabivaka.
The best part of the entire experience is the feeling of standing on edge of the pitch to soak in the thunderous atmosphere from the supporters in the stands - an unforgettable experience for a football fan. 
Pitchside experience! #VivoSuperFan #FIFA #WorldCup #Russia2018 pic.twitter.com/kDwEHrx3zN

— Tegar Paramartha (@tegarp69) June 17, 2018
>