Young Africans
Rostand: We still have a chance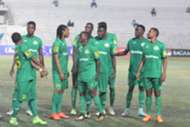 Yanga goalkeeper Youthe Rostand believes that they will progress into the group stages of CAF Champions League despite their home defeat against Township Rollers in the first leg.  
Yanga was stunned by a 2-1 loss on the hands of the Rollers who they will play again in the second leg in Gaborone next week. 
Rostand told Goal that although the results were not good but he still believes that they will move forward into the group stage because there is another chance to try having a go at it. 
"Our target is to play in the group stage this season, we were defeated in the first game but this is not the end, still we have another chance and we will try hard to make things happen," said Rostand. 
The experienced goalkeeper was left on the bench to make way for teenager Ramadhan Kabwili who played his second game on this tournament this season.