Ronaldo, Pele, Neymar and the top 20 Brazilian footballers in history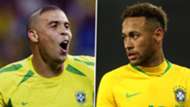 ---
GERSON
---

While Pele was his team's symbol and Jairzinho and Tostao the goalscorers, Gerson was the man that made Brazil's famous 1970 World Cup winning side tick.
The former star is considered one of the best passers football has ever known, a worthy successor to the great Didi in the national team who bounced back from 1966's disappointment to thrill the world in Mexico.
---
TAFFAREL
---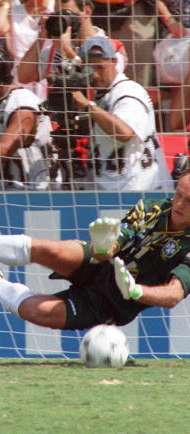 With such brilliant attacking stars lighting up Brazil's football history, it is not easy for a goalkeeper to make his name. But Claudio Taffarel has his own place in the annals thanks to his heroics in bringing home World Cup number four for the Selecao.
The devout Christian's prayers prior to that do or die penalty shoot-out against Italy in the 1994 World Cup final form an iconic image from that tournament, as he made a decisive save from Daniele Massaro before Roberto Baggio blazed over the bar to hand Brazil the trophy.
In all Taffarel represented his nation at three World Cup finals, helping them to a runners-up spot in 1998, while his club career saw him win major honours in his native Brazil as well as national and international titles at Italy's Parma and Turkish giants Galatasaray.
---
MARCELO
---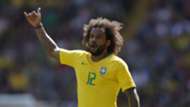 When Roberto Carlos retired from international football Brazil fans might have been forgiven for thinking nobody could step into his boots. They were wrong.
Marcelo has become a great in his own right over a decade of unbroken success for Real Madrid, and it is difficult to imagine the Merengue reaching the heights of four Champions League crowns in the last five years without their Brazilian superstar.
He may at times seem more interested in scoring goals than stopping them, but Marcelo has few real rivals when it comes to picking the best left-back of the last generation.
---
RIVALDO
---

For a time around the turn of the millennium it appeared that for aspiring Brazil stars a catchy nickname beginning with the letter R was obligatory. Romario, Ronaldo, Ronaldinho and Roberto Carlos were ruling the roost – and so was Rivaldo, the Selecao's midfield playmaker extraordinaire.
Having risen to fame first with Palmeiras and then in Spain as part of Deportivo's famous 'Super Depor' side of the 1990s, Rivaldo became an idol with Barcelona during five seasons of awesome creative and attacking play. That time at Camp Nou yielded two Liga titles, while he was also a pivotal part of the 2002 World Cup winning side.
---
ROBERTO CARLOS
---

Brazil's iconic full-back is perhaps best remembered for a single moment of genius: his wicked swerving free-kick that left Fabien Barthez motionless during a friendly against France.
But he was so much more than a set-piece specialist: he was one of the best attack-minded defenders of his generation and a stalwart for both the Selecao and Real Madrid.
Among Roberto Carlos' many gongs are a 2002 World Cup winners' medal and three Champions League titles as part of Madrid's famous 'Galacticos' generation of the late 1990s and early 2000s. In all he appeared 125 times for his nation and earned a place in history as one of their greats.
---
CARLOS ALBERTO TORRES
---

The author of one of the World Cup's most famous goals, popping up to tuck away a sublime team move from Brazil that finally killed off Italy in the 1970 final. Carlos Alberto was a full-back of the highest quality, a proficient defender who also had a knack of getting up the other end and scoring.
Not only was Carlos Alberto a pivotal part of that famous Brazil side, he was also the team's captain, recognition of his personality and the experience garnered through years starring at Santos alongside Pele.
He passed away in 2016 aged 72, with Pele among a host of former team-mates paying tribute to one of the greats.
---
RIVELINO
---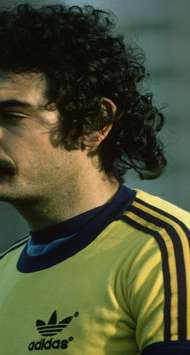 Another member of the 1970 World Cup squad to make this list, Rivelino was known and feared for his bullet-like shot. He is considered to have one of the most powerful boots in football history, although comparisons with the modern day are of course difficult due to the heavy ball players of Rivelino's generation played with.
Aside from his potency the attacking midfielder was also blessed with wonderful skill in his left foot, and one of the pioneers of the 'flip flap' beloved of Ronaldinho.
---
TOSTAO
---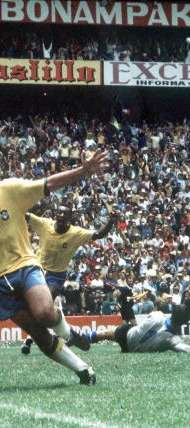 Tostao's career suffered an untimely end. At just 26 he was forced to hang up his boots after being hit in the eye by a ball, cutting him off in his prime. But even in the short time afforded to him the forward made a spectacular impact on Brazilian football, both with hometown club Cruzeiro and the Selecao.
It is his contribution to the 1970 World Cup win that is best remembered. Tostao fired four goals for his nation in Mexico, including a double in the quarter-final to see off the challenge of dangerous Peru.
---
DIDI
---

While a few years older Didi was a contemporary of Pele and Garrincha's in the Selecao, appearing in a total of three World Cups with wins in 1958 and 1962.
He was also the first Brazilian star to grace Santiago Bernabeu when he swapped Botafogo for Real Madrid in 1959, winning a European Cup before leaving after just a year due to personal differences with the great Alfredo Di Stefano.
The late star became a legend for his abilities from the dead ball, while his elegance on the field led to Brazil's faithful bestowing on him the nickname 'Ethiopian Prince' in recognition of his talents.
---
CAFU
---

With 142 appearances Cafu is Brazil's most-capped player of all time, and is also considered one of the greatest full-backs to ever play the game.
He also helped to inspire the nation's most successful period since Pele and Garrincha's heyday: in the four World Cups the former Roma man played, the Selecao reached the final on no less than three occasions and won the big prize twice, in 1994 and 2002.
On the pitch Cafu was the archetype of the classic roving Brazilian full-back, focused on attack first and tracking back as a secondary consideration. But he was also no slouch in his own half, and as well as the national team became a favourite in Italy thanks to successful spells at both Roma and Milan, the latter yielding Champions League glory in 2006-7.
---
JAIRZINHO
---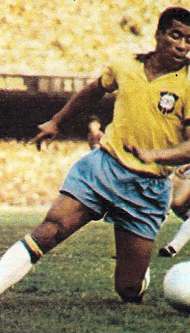 A dynamic, powerful forward, Jairzinho represented Brazil at three World Cup finals. It was in 1970, however, in glorious technicolour, that the former Botafogo man really stole the show.
Jairzinho formed a lethal partnership up front with Pele and Tostao, scoring seven goals in Mexico as Brazil took the world by storm. But it was not just with his country that he stood out: a host of medals with Botafogo were followed by national titles in Venezuela and Bolivia in the twilight of his career as well as a Copa Libertadores crown with Belo Horizonte's Cruzeiro.
---
NEYMAR
---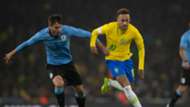 While Paris Saint-Germain's superstar and the most expensive player in history still has some way to go before he can match some of the illustrious names on this list, if he can keep up his incredible career to date he will no doubt be considered as one of Brazil's all-time greats one day.
A Copa Libertadores winner with Santos while still a teenager, Neymar then joined a select group of players to win both South America's top gong and the Champions League in 2014-15 with Barcelona.
So far only international success has eluded the former Brazil captain, who will be gunning for the Copa America next summer on home soil.
---
ROMARIO
---

The image of Brazil's star forward gliding through defences on the way to goal is one of the defining memories of the 1994 World Cup, the tournament which brought football to a whole new audience and heralded the beginning of what would become today's global, commercial behemoth.
Whether it was with PSV, Barcelona or the national team, nobody seemed to know how to stop Romario scoring goals at a prodigious rate.
Romario finished his Brazil career with a brilliant 55 goals in 70 games, while the decision to leave him out of the nation's 2002 squad created a national scandal. The short, stocky goal-getter also became an instant favourite with Barca fans thanks to his partnership with the similarly explosive Hristo Stoichkov in Johan Cruyff's 'Dream Team'.
---
FALCAO
---

Few players are lucky enough to be considered living legends even in one team. Falcao, however, an impossibly stylish midfielder in his heyday, boasts that status at no less than three outfits: not just the Brazil team, but Internacional and Roma all hold him up as one of their favourite sons thanks to his exploits on the field.
While he managed top honours at both of the above clubs, as well as further success during a brilliant year with Sao Paulo, it was in a competition Falcao did not win that he really sealed his reputation.
While Socrates, Zico and Eder caught the eye in Brazil's wonderful 1982 World Cup, Falcao was there pulling all the strings from his withdrawn role in midfield.
---
RONALDINHO
---

The playmaking wizard imparted magic on every team that had the privilege to see him pull on their jersey. Although the latter stages of his career petered out amid allegations of indiscipline, Ronaldinho at his best was truly a glorious sight for fans, neutral and even the opposition.
Ronaldinho masterminded Brazil's 2002 World Cup win alongside Ronaldo, and also went down in Barcelona history as one of the finest players ever to set foot on the hallowed Camp Nou turf.
Along with Andres Iniesta he is one of the few Barca players to receive a standing ovation from the Real Madrid faithful, a mark of respect that says everything about this unique, easy-going talent.
---
ZICO
---

Another member of that wonderful team of 1982 and 1986, Zico is widely regarded as one of the most exceptional playmakers the game of football has ever produced. Pele once said that of all the sport's stars, the Flamengo legend came closest to matching his talent.
Zico lifted a total of 12 major trophies for the Rio side in which he played most of his career, including Copa Libertadores and Intercontinental Cup triumphs in 1981. He went onto become a legend in Japan too thanks to his time at Kashima Antlers, whom he now represents as technical director.
---
SOCRATES
---

The unflappable, chain-smoking doctor is an icon of Brazil's mythical Joga Bonito philosophy. While Brazil failed to win either of the World Cups Socrates featured in, the brilliant play showed in 1982 and 1986 captivated the world, particularly in Spain where the side perfectly mirrored the skills and mentality of their captain.
Socrates stood out due to his supreme footballing intelligence, matched by an enviable ability while on the ball that made him appear almost super-human to opponents.
His passing in 2011 was met with a period of national mourning in Brazil, with President Dilma Rousseff calling him "one of Brazil's most cherished sons."
---
RONALDO
---

The former Barcelona, Inter, Real Madrid and AC Milan star came closer than anyone else to replicating the exploits of Pele in international colours.
Ronaldo picked up two World Cup winners medals, as an unused reserve in 1994 and as the best player in the world eight years later, failing in the final in 1998 after a barn-storming tournament after allegedly suffering a seizure hours earlier.
Prior to the age of Lionel Messi and Cristiano Ronaldo the striker was considered one of the deadliest strikers ever to appear in modern football, smashing 62 goals for his country and more than 400 in total.
It is a testament to his unworldy talents that even after a career which would be the envy of anyone in the game, many believe he could have reached even greater heights.
---
GARRINCHA
---

An erratic genius on the wing, and one of Brazil's folk football heroes thanks to his exploits on and off the pitch. Garrincha played a pivotal role in the nation's 1958 and 1962 World Cup wins and has gone down in history as a flawed genius of the beautiful game.
Garrincha stood at just 5'6" and was slightly bow-legged, but became an idol during a relatively short but immensely successful professional career with boyhood club Botafogo and the national team.
His chequered private life – he was an alcoholic, married twice and is said to have fathered up to 14 children – only heightens his mythical status among fans, who were devastated when he passed away at just 49 in 1983.
---
PELE
---

O Rei, the king of Brazilian football. While the specific numbers of Pele's dazzling professional career might still be up for some debate, there is no doubt that the Santos star is amongst the very greatest footballers ever to play the sport.
World Cup wins in 1958, 1962 and 1970 set Pele out as the competition's most successful player in history, while he smashed a total of 77 goals for the Selecao to set a record that has now stood for the best part of half a century.
The likes of Neymar may one day surpass that mark, but it will take a special player indeed to unseat Pele as Brazil's all-time superstar.