Manchester United v Juventus
Ronaldo is one of the best of all-time - Mourinho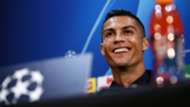 United icon Ronaldo will return to Old Trafford with his new club Juventus for their huge Champions League Group H clash. The focus will be on Cristiano Ronaldo and his former coach only had words of praise for the 33-year-old.
"Cristiano is on a level where he doesn't need these questions and these answers. He was one of the best players of all time and no one can say different than that, it's as simple as that. Juventus now have a special player who makes a difference. They are more than contenders to win the Champions League in my opinion," said Mourinho.
How to watch UEFA Champions League in South-East Asia?