G. Higuaín
Ronaldo is the best ever and I've watched two million of his goals - Higuain
Juventus striker Gonzalo Higuain considers goalscoring to be "an obligation" and admits to modelling his game on Brazil icon Ronaldo.
The legendary World Cup winner was one of the finest performers on the planet when Higuain was growing up, with his power, pace and finishing ability landing him three World Player of the Year awards.
Higuain & Argentina 9/1 for WC
Higuain is now a member of the global striking elite, with the Argentine frontman having proven himself through the years at River Plate, Real Madrid, Napoli and now in Turin.
He has close to 300 goals to his name for club and country, and concedes that he is the player he is today due to his determination to learn from the best in his younger years.
The 29-year-old told The Guardian on his admiration for Ronaldo: "I've watched two million of his goals.
"For me, he's the best ever, by a big margin."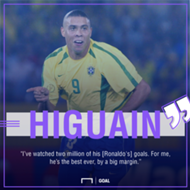 Higuain shares the all-encompassing desire to terrorise defenders which helped Ronaldo to the top of his chosen profession, with the Juve star fully aware of what is expected of him.
Pressed on whether he considers the art of goal-scoring to be an obsession, he said: "No, not that. More like an obligation. It's traditional that you score goals as a striker."
Higuain has generated some sizeable transfer fees during his career with Juve paying Napoli €90 million for his services in 2016, but the South American is happy to embrace the pressure which accompanies being a big-money striker.
He added: "Football for me is the most ever-changing sport in the world.
"Because you can go seven games in a row, scoring in all of them, then you don't score for two games and already you're doing badly. You're in crisis.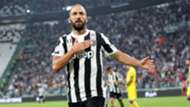 "But that's what happens to people who are strong at what they do, right? Everyone gets used to seeing you score lots of goals, and then when you don't score for two games they get surprised. That's actually a rather beautiful thing, it's cute.
"So, like I say, for me football is ever-changing. But, yes, it is still fun."
Higuain netted 32 times for Juve in his debut campaign, helping them to the Serie A title, a Coppa Italia triumph and the final of the Champions League.
He already has two efforts in four games this season and will be hoping to add to that tally when the Bianconeri open their 2017-18 European quest with a heavyweight meeting with Barcelona at Camp Nou on Tuesday.