PSL
Rodney Ramagalela takes Bafana Bafana snub in his stride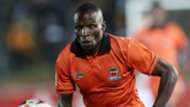 Polokwane City attacker Rodney Ramagalela was recently crowned Premier Soccer League (PSL) Player of the Month for October.
Ramagalela is currently the league's top scorer with six goals and three assists, and the 28-year-old believes that that this could be his best season yet in the topflight should he remain injury free.
"I believe that if I am injury free, I can make things happen for myself and the team," Ramagalela was quoted by The Star as saying.
"I just have to keep on working hard and see how far I can go. I don't have a specific number of goals that I would like to finish the season with. Just as long as I continue to score and Polokwane is safe. That's all that counts. If Polokwane City is safe, Rama G is safe also," he explained.
However, despite the former Mamelodi Sundowns player's good form Ramagalela was most recently snubbed by Bafana Bafana coach Stuart Baxter for the 2018 Fifa World Cup qualifiers against Senegal. But rather than letting this setback get him down, Ramagalela is not giving up hope of earning a call-up, saying he will continue to put in the work in hope of donning the Bafana jersey.   
"When it comes to the national team, we don't have control over that. The only thing that we have to do is wait and see the outcome. As long as I keep working hard, I will continue to wait just like you guys who are waiting to see if I will be selected for the national team," he said. 
"At the end of the day, we are all South Africans and we should support the national team. The only thing that we have to do is to go to the stadium and support our team. I believe that one day my day will come," he concluded.