A-League
Roar captain McKay confirms retirement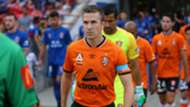 Matt McKay has added his name to a growing list of A-League regulars to retire at season's end after over 300 appearances for Brisbane Roar. 
The 36-year-old confirmed his retirement on Thursday after a difficult final season with the Roar.
McKay's club career took him to Scotland, South Korea and China, while he played 59 times for the Socceroos. 
"I'm grateful for everything football has given me. I've had an enjoyable career with plenty of highs and lows but I've always had a smile on my face and that's what's made it for me," McKay said.
"Thank you to all the people who have supported me, my parents, my friends and of course my wife Amanda & our two boys. I'm very grateful for the sacrifices that have been made to help my career.
"I've always tried my hardest and I think that's what has made my career last as long as it has - I've always given my all."
During a turbulent current season in Brisbane, McKay has done his best to keep the team together as he's filled in across the park with interim manager Darren Davies grateful to have had the club captain to call on. 
"He's helped me so much and I want to thank him for that," Davies said.
"I've depended on Matty a lot and he's always been there for me, and for all of the players as well.
"I haven't got anything but good words to say about him. He's been an inspiration for this club."
McKay joins the likes of Alex Brosque, Carl Valeri, Mark Bridge and Brendon Santalab to confirm this A-League season will be their last.