Transfers
Reports: Victor Wanyama emerges as top transfer target for Italian giants AS Roma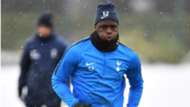 Victor Wanyama is now a top transfer target for Uefa Champions League semi-finalist AS Roma.
According to Italian newspaper La Repubblica, the Giallorossi club is evaluating the deal to sign Wanyama, if they miss out on Sevilla midfielder Steven Nzonzi.
Nzonzi remains the target for the Italian giants, but the Frenchman is not keen to make the move as he prefers a return to the Premier League with Arsenal and Everton believed to be interested for his services.
With this in mind, Roma have now turned their attention on the Kenyan captain, who signed for Spurs from Southampton in 2016 and played 24 times in all competitions for the North London outfit last season.
Tottenham are believed to be considering selling the Kenyan this summer and could entertain offers. Wanyama is currently sidelined after he was forced to return to London from Spurs' tour of the USA after a recurrence of knee injury.
Wanyama was sidelined for four months last season and the injury is another blow for the White Hart Lane club's engine room. Tottenham are yet to make a signing in this transfer window but manager Maurico Pochettino remains relaxed about the situation.
Spurs will face Newcastle away in their opening match of the season.