Transfers
Reports: Fosa Juniors relent as Andriamirado Andrianarimanana is set to join Kaizer chiefs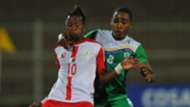 Madagascar international Andriamirado Andrianarimanana will reportedly link up with Kaizer Chiefs inspite of the controversy that followed his announcement.
Andrianarimanana, better known as 'Dax' was recently confirmed as an Amakhosi player alongside, former Mamelodi Sundowns star Khama Billiat and Letlhogonolo Mirwa.
However, there has been much uncertainty surrounding Chiefs' acquisition of the player.  Madagascan side Fosa Juniors were adamant that Dax was still their player and was contracted to the club until 2020.
Juniors' utterances though, left Chiefs bewildered as team manager Bobby Motaung was previously reported as saying that the exciting winger was a free agent.
According to reports by SowetanLive, Chiefs were even willing to take the matter to Fifa where the player could have ran the risk of being banned if it was indeed proven that Dax was still contracted to the club.
Reports further state that Chiefs' notion that Dax was indeed a free agent was due to the fact that the Madagascan domestic league is predominantly an amateur league.
This has been the sticky point as Juniors were adamant that by virtue of them paying their players as professionals, they were entitled to a transfer fee.
Nonetheless, the publication now report that saga could soon reach its conclusion as Dax has been allowed to leave and will join the Soweto giants in the next week after competing half of the Madagascan domestic season.
Despite Chiefs officially announcing the player as there own, Dax turned out for Juniors this past weekend.
But while Chiefs have already begun their pre-season preparations, Dax might have to wait a little longer before starting life in Johannesburg, as he will need to sort out visa issues as well as other paperwork.
Nevertheless, the publication explain that this could happen this week, and that Dax could soon link up with his new teammates in South Africa.