Manchester United
Rashford wins battle of the babies against record-breaker Svilar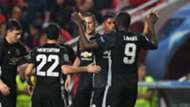 On a night when Manchester United were looking short of experienced heads to wake them from their slumber it was once again Marcus Rashford who made all the difference with a match-winning performance in the 1-0 success away to Benfica on Wednesday.
But it wasn't all good news for the teenage contingent as Rashford's winning goal came as a result of a moment of inexperience from the Champions League's youngest-ever goalkeeper. At 18, Mile Svilar was always likely to court some headlines, but the Benfica shot-stopper's game-deciding error will sadly forever hang a black mark over his incredible achievement.
Rashford 15/4 first scorer v Huddersfield
While the nature of Rashford's goal carried a hint of fortune, there can be no doubting that the 19-year-old made his own luck by repeatedly asking questions of Svilar. That he was the only one to give the rookie a hard time when he himself was starting a Champions League game for the first time said much about United's display to that point.
The first half will only be remembered for the listless nature of United's performance. They had little drive on the ball, gave away possession with far too much ease and when they did get into the Benfica half they came up with more offside violations than efforts at goal (six to four). Svilar was forced into a single save, and even then Nemanja Matic's shot was straight at the young Belgian.
But after the break there was a bit more verve about United's play, with most of it coming at the feet of Rashford. The England attacker had twice swung in dangerous corners which had Svilar scampering back onto his line before winning the game by sending a free-kick from deep on the left side over the youngster's head.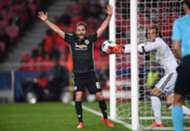 As he back-pedalled Svilar made the fatal decision to attempt a catch rather than punching clear, and having done so he was powerless to stop his momentum taking both himself and the ball over the line.
It was a cruel twist of fate for Benfica's third different goalkeeper in three Group A fixtures so far, all of which have now ended in defeat. About the most they can hope to take from their Champions League campaign is the experience of football at the very highest level, and Svilar will benefit from that more than anyone else having only made his first-team debut at the weekend.
Rashford himself doesn't turn 20 until the end of October and yet it feels as though he has been around forever such is his growing importance to Jose Mourinho's side. After the dull 0-0 draw at Liverpool on Saturday they were in need of a pick-me-up. And Rashford's ability to be the difference-maker in his first Champions League start screams volumes.
United looked short of power and control at times between the midfield and the attack, with the absence of Paul Pogba being felt keenly. But with Rashford picking up the baton and leading them through an otherwise forgettable evening they continue to boast a 100 per cent record since returning to the Champions League.
Rashford not only won the battle of the babies but also proved once more that he can be one of United's leading lights for some time to come.