AFF Championship
QUIZ: Can you name the entire Malaysia squad that played in the 1996 AFF Championship?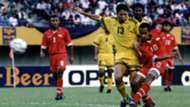 The tournament back in 1996 was the inaugural edition held in Singapore where a Malaysian side led by Wan Jamak Wan Hassan as the head coach reached the final of the tournament.
But their run were stopped by a Kiatisuk Senamuang winner in the final after a gallant run, after the two teams had already met in the group stage, with that one finishing 1-1.
Dig up your memory, clear the cowebs and see if you can name all 19 players that gave Malaysia a runner-up finish 24 years ago.