Selangor
Indonesian FA wants Selangor's assurance of Evan and Ilham's participation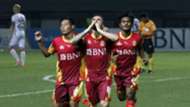 ---
BY        ZULHILMI ZAINAL       Follow on Twitter
---
The Indonesian FA (PSSI) wants the assurance of Selangor that the two Indonesia internationals signed by the Malaysian club; Evan Dimas Darmono and Ilham Udin Armaiyn will be allowed to join the national team's plans this year, says PSSI secretary-general Ratu Tisha Destria.
The Red Giants signed Evan and Ilham from Indonesian champions Bhayangkara FC last month, but the pair has yet to arrive in Malaysia after they were labelled "unpatriotic" by PSSI president Edy Rahmayadi.
With Indonesia hosting the 2018 Asian Games and PSSI targeting the quarter-final stage of the football competition, an extended training camp is expected to be held for the national team when the Malaysian league is still taking place.
Speaking to the Indonesian edition of Goal, Tisha clarified that PSSI is not stopping Evan and Ilham from joining Selangor.
"The relationship between the federations (PSSI and Malaysian FA) is good. But we have to wait for the discussion to take place. We as a federation do not forbid it (the move).
"But we want the assurance that they (Evan and Ilham) may take part in the national team's programmes. In 2018 we are carrying the people's hope, not just the government's," she said.
Although Selangor last week said that they would discuss the matter with PSSI, Tisha revealed that no confirmation has been made regarding the meeting, while adding that the two players' agent must assist the parties involved in the dispute.
"We are very concerned whether they will be able to follow the national team's schedule... we leave it up to the club and intermediary," noted Tisha.
The transfer saga has also affected Malaysian clubs' plans of signing Indonesia internationals. Newly-promoted Super League side Kuala Lumpur last month cancelled their plan of signing defender Achmad Jufriyanto Tohir, while FA Cup champions Kedah recently told Berita Harian that they will be looking at signing players from Thailand, Vietnam or Myanmar instead.