Super League
PREVIEW: JDT look to continue superior league record against T-Team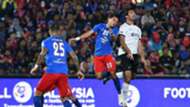 Having competed in the Malaysia Cup in midweek, T-Team FC and Johor Darul Ta'zim (JDT) turn their attention back to the 2017 Super League season as they prepare to face each other at Sultan Ismail Nasiruddin Shah Stadium on Saturday.
With only six matches left to be played in the season, both teams will be looking to achieve favourable results to hit their respective targets for the season.
CURRENT FORMS
Rahmad Darmawan's T-Team have been inconsistent of late, struggling to string together positive results. WIth only one win in their last five competitive matches, the Titans' form are a big worry especially when they are about to go up against table toppers, JDT.
League leaders JDT may have suffered a blip against Selangor in the Malaysia Cup, albeit with a different XI, but they are in fantastic form in the league. Chasing down a fifth consecutive win, JDT are on course to retain the league title for a histor fourth consecutive year.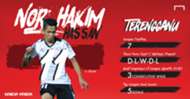 RECENT RECORDS
It is a very lopsided record in the meetings between the two teams in recent times. The Southern Tigers holds the advantage of having defeated T-Team in every one of their last five meeting in all ccompetitions. 
In the reverse fixture earlier this season, JDT trounced T-Team 3-0 with all the goals coming from Gabriel Guerra. Then, only just been introduced to the team, Guerra announced his arrival to the adoring home fans in some style.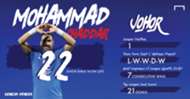 PLAYER AVAILABILITY
Darmawan will be looking for the familiar players to play a key role in a match where they are the clear underdogs. Hafidz Romly in goal is expected to be busy and he'll need those in front of him, in particular without Youssouf Maigan, Wan Amirzafran will need to step up his game. Dilshod Sharofetdinov and Yannick Ndjeng will have to shoulder the responsibility of providing the attacking influence in what limited time they are expec
As for JDT, Ulisses Morais is expected to bring back the big guns for this clash as they look to take another step towards retaining their title. Natxo Insa, Safiq Rahim, Guerra and Gonzalo Cabrera should all come back into the fold while Izham Tarmizi should return in goal for them. Of those that were given a chance in midweek, only Hazwan Bakri and Darren Lok looks likely to be given a chance from the bench, should they be needed.
VERDICT
The result looks almost a foregone conclusion such in the disparity in quality and form between T-Team and JDT. Having participated in a taxing schedule since the start of July, fitness may come into play and have an impact on the players but that is likely to only affect the amount of goals and not the outcome of the match.
JDT's far superior players should have too much for T-Team in this clash as they look to increase their current 11 points gap to Kedah, in second place in the standings. The sooner that the league title is secured, the quicker Morais can turn his attention towards the cup competition and with that in mind, a strong JDT is not expected to pick up anything less than three points at Kuala Terengganu on Saturday.