Betting
Premier League winners and losers - week four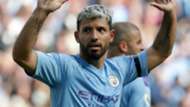 Winners
Manchester City highlight reel editors
Talk about an easy gig. Every week City seems to come up with a magnificently worked, beautiful-to-watch goal. You can hate City, but surely you can't hate what they create?
Everything about this goal is wavy. @Mahrez22 back-heel. @DeBruyneKev first time pass. @aguerosergiokun finish 🤧🌊🌊

🔵 #mancity pic.twitter.com/HlYu61Fk7s

— Manchester City (@ManCity) September 1, 2019
The Vardy Party is still going
Fresh off winning a Carabao Cup match on penalties, Jamie Vardy knocked home a brace in a 3-1 win over Bournemouth. The 32-year old has now scored an unbelievable 12 goals in 14 league appearances under Brendan Rodgers.
What a performance @LCFC 💙

Enjoy the rest of your weekend 🦊's! pic.twitter.com/OnUeMmV4jz

— Jamie Vardy (@vardy7) August 31, 2019
While the other two promoted clubs sit in the relegation zone, Sheffield United are currently 10th, coming off a gritty, come-from-behind win away to Chelsea. It's a long season but the Blades may not be the easybeats many thought they'd be.
Just a pub team from Sheffield. #twitterblades #SUFC pic.twitter.com/dx88K9rnQ0

— Tyrone James (@tyronej1984) August 31, 2019
Losers
The Post-Fergie era
Not all Manchester United fans are angry – many seem to be resigned to the fact that their team is no longer the juggernaut that it used to be. After a desultory 1-1 draw against Southampton (who were down a man from the 73d minute), the social media reaction was at times pensive, at times, bummed out.
This was another depressing confirmation of another depressing season. #ManUtd have become a depressingly average team.

— Gregory Ioannidis (@LawTop20) August 31, 2019
Project Moyes: Failed
Project Van Gaal: Failed
Project Mourinho: Failed
Project Solskjær: Failing...???

Project Glazers: Take, Take, Take
Project Woodward: Fail, Fail, Fail... I know who I would change.#manutd

— Kenny Doughty (@kennydoughty) August 24, 2019
Alleged divers
What to make of that bizarre decision that cost Villa a goal and a point? The anti-Jack Grealish brigade (it seems like a thing) are claiming he took a dive – as did referee Kevin Friend – but to this neutral eye, he seemed to get slightly bumped, stumble, and go on with his pass – which resulted in a disallowed goal – before falling. Our old friend VAR didn't overturn it either.
The disallowed goal for @AVFCOfficial in the last minute has to be seen to be believed. Why VAR didn't correct what appeared to be an awful refereeing error is beyond me.

— Gary Lineker (@GaryLineker) August 31, 2019
We talked about Harry Kane last week and the Spurs' star was in the spotlight again. This time it was a clash with Arsenal defender Sokratis, which was deemed a dive by everyone bar Tottenham fans.
Got a lot of time for Geoff Shreeves making Harry Kane watch his dive back and commentate on it 😂 pic.twitter.com/Yf9m3TJQP5

— James John (@JamesJohn2427) September 1, 2019
Fans of a competitive league
It looks like another two-team race, with Manchester City and Liverpool both unbeaten (City have a draw) and scoring almost at will. We're four games in and Manchester United, Spurs and Chelsea are already seven points behind Liverpool.
And breathe...

34 to go - happy with your team's start to the #PL season? pic.twitter.com/S76Xkb4tz2

— Premier League (@premierleague) September 1, 2019
Odds correct at the time of publish. Please gamble responsibly. Check out the latest football odds at Sportsbet.