African All Stars
Portland Timbers can learn from Sporting Kansas City defeat, says Fanendo Adi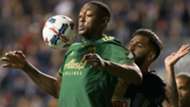 Fanendo Adi says Portland Timbers will learn from the mistakes they made in their shock 1-0 defeat to Sporting Kansas City at Providence Park on Sunday.
Dominic Dwyer's 53rd minute's strike subdued the hosts before their home fans for their second loss of the season.
The Nigeria who admitted that his side did not have the control of the game is hoping for a vast improvement from their next outings.
"It was just an up and down game. We didn't have the flow of the game,'' Adi told club website.
 ''Kansas City came in with a pretty good plan to press very high. I think that's what they did, but we gave up some balls and the goal came out of nowhere.
''They took advantage of some mistakes and credit to them. They came to play their own type of game. They didn't let us play our football.
''It was a very choppy game. They came to interrupt, destroy and just commit fouls. We had a lot of fouls, but they weren't called. Credit to them.''
''That was their game plan, and they executed it,'' he continued.
''Of course for us we wanted to play, but we didn't have the opportunity to play. We needed to adjust a little bit in the second half, but it was still choppy up and down.
''We'll learn from it. We believe the next game is going to be pretty much the same, but it's good we had the test today."
Caleb Porter's men host Vancouver Whitecaps in their next outing on April 22.