African All Stars
Portland Timbers' Adi reveals target for 2018 Major League Soccer season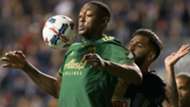 Ahead of the commencement of the 2018 Major League Soccer season, Portland Timbers forward Fanendo Adi has stated that his target is to surpass his previous feats at the club.
Adi who broke the Timbers' all-time top scorer record with his effort against Philadelphia Union in April 2017, spent the remainder of the 2017 campaign on the sidelines after suffering a hamstring injury against LA Galaxy on August 6.
The former Trencin player could only manage 10 efforts in 22 leagues appearances last term as his team bowed to Houston Rockets in the Western Conference semifinals.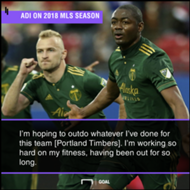 As the 2015 MLS Cup winners prepare for their season opener against LA Galaxy on March 4, Adi who finished as the club's highest goalscorer for the 2015 and 2016 seasons is focused on taking his game to the next level as he continues to work his way back to top form.
"I'm hoping to outdo whatever I've done for this team," Adi told club website.
"I'm working so hard on my fitness, having been out for so long. Now that I have a few more things that I know how to do right, I'll be better in the long run."
Despite suffering setbacks in his recovery from the hamstring injury, Adi who is yet to play a competitive game in over six months believes that his spell on the sidelines occurred for a reason.
"In as much as [the injury] was a bad thing, it happened for a reason," he added.
"I'm the kind of person that thinks everything is supposed to happen, so I take what seems to be the negative and make it a positive.
"Probably, it was the time for me to be out and reflect on being here. Injuries happen, but mine was happening in a different way, where very minor things kept reoccurring."