PSL
Polokwane City striker Mncwango suspended over comments on Orlando Pirates interest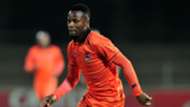 Polokwane City striker Thobani Mncwango has reportedly been suspended by the club after making comments about Orlando Pirates being after his signature.

The lanky forward recently spoke to a local publication about the interest from Pirates and the Sowetan source has now revealed that player is out in the cold because of his comments.

"The whole thing came across as if he's not happy here at the club. It all came out as if the club blocked his move to Pirates, because he said they [Pirates] called him and yet the move didn't happen," the source said.

"He was suspended immediately after our game against Maritzburg United. The chairman mentioned in the dressing room that someone was going to be suspended, but didn't say why," the source added.

"We later found out that Thobani was the player being suspended and the reason was that he spoke bad about the team in the media," the source continued

"For now, he's not allowed to train with the team but he has to report for duty and just watches training. It is a bad situation for him," the source concluded.

Polokwane head coach Luc Eymael recently rued Mncwango's absence following a 1-1 draw with Pirates. The forward has missed the team's last three league matches.

"We again missed Thobani and that is three games without him playing and it is difficult for us, but you have to ask the chairman [Johnny Mogaladi]. I can't talk about that but it's difficult," Eymael said on the Sowetan.

Mncwango has made 14 league appearances for Rise and Shine this season - netting three goals in the process.