Manchester United
'Pogba & Mourinho need to grow up' - Man Utd feud talk annoys Ince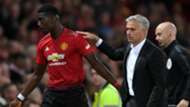 Paul Pogba and Jose Mourinho have been told to "grow up", with Paul Ince calling for the focus at Manchester United to be shifted back to football matters.
Two high-profile figures at Old Trafford have dominated the headlines over recent months, with an apparent breakdown in their working relationship sparking transfer talk and heated debate.
Mourinho has come out fighting against the "lies" he considers to have been spread, with the Portuguese insisting he "couldn't be happier" with the cluib's record signing.
The issue of internal affairs has, however, threatened to become a distraction at the Theatre of Dreams, with Ince calling on all concerned to put any differences to one side and start pulling in the same direction.
The former United midfielder told BBC Sport of the Pogba-Mourinho saga: "Well first and foremost I think he's a talented player.
"We've seen all the problems start at the end of last season but I thought they'd been put to bed.
"He's come back, won the World Cup, played fantastically.
"And Mourinho has said '[Antonio] Valencia is out, you're going to be my captain'. That shows he got a lot of respect for [Paul] Pogba.
"He plays against Leicester, he's outstanding, man of the match for me. After the game, he's decided to have that comment at the end of it which brought it all again.
"He just needs to play his football, let his football do the talking. This row has been going on for a season now.
"We should be talking about where Manchester United are going to go this year, not about Pogba, Mourinho, Pogba, Mourinho.
"Let bygones be bygones and grow up."
Pogba and Mourinho will be chasing the same goal on Sunday when United travel to Brighton seeking to build on a 2-1 win over Leicester in their first Premier League outing of 2018-19.