PSL
Platinum Stars coach Butler called Kaizer Chiefs 'average' and PSL 'overrated'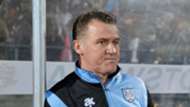 New Platinum Stars head coach Peter James Butler once called Kaizer Chiefs "average" and the PSL "overrated".
On Thursday, Dikwena confirmed that the English tactician will replace Cavin Johnson after parting ways with the Botswana Football Association (BFA) earlier this week.
Prior to the 2015 Caf Champions League preliminary round clash between Chiefs and Botswana side Township Rollers, Butler took to Twitter to express his feelings on Amakhosi and the PSL.
"I personally don't think Rollers will get smashed tonight. The PSL is not as good as the hype they give it. Chiefs are like a Div 2 (fourth-tier) team in UK. Chiefs – Div 2 team at best' maybe Conference (fifth-tier)'" Butler tweeted according to Times Live.
"If the PSL is that good' why are they hardly any PSL players playing in the EPL at this present moment? Lower Leagues?"
The well-travelled coach also gave his thoughts after Amakhosi defeated Rollers 2-1 in the first-leg clash at the FNB stadium in February 2015.
"Good result tonight for Rollers' just goes to show PSL is over-rated' all the hype and media' I'm from the real world' very average were Chiefs," he tweeted.
Butler had a tumultuous three-year reign in charge of Botswana and at times he would criticize his former employers, BFA, publicly.
He is expected to be in charge of Dikwena when they host Swaziland giants Mbabane Swallows in the 2017 Caf Confederation Cup Group match next month.