Mamelodi Sundowns
Pitso Mosimane: Sundowns didn't embarrass their fans against Barcelona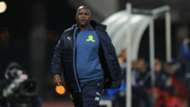 Mamelodi Sundowns head coach Pitso Mosimane admitted that the two defensive mistakes they made against Barcelona somehow cost them the game. 

The Brazilians suffered a 3-1 defeat at the hands of the Spanish, two of the three goals were, according to Mosimane, given to the LaLiga champions on a silver platter.

"I think the difference is between the Rand and the Euro hey... [just] to sum it up," joked Mosimane as he began addressing the media. 

"We paid school fees tonight. Bangaly made the biggest mistake; he gave the ball away to Dembele and they scored. Kekana gave the ball away to their striker and they scored. The other one...of course it's Barca; that's the way Barca play," he said. 

The 53-year-old said while Barcelona showed class and quality on the day, Sundowns still held their own and put in a solid shift against what he described as the best team in the world. 

"Obviously, you could see the difference, you could see the quality in Barca. You could see how they passed the ball, but we also had our chance to play, and that's how I wanted the boys to play; the way Sundowns play and test it against Barcelona," added Mosimane. 

Mosimane went further to say the outcome of the game could have been different if this was a competitive match as Sundowns didn't want to go hard on Barcelona players in terms of making tackles. 

"But there's is a big difference and we must not fool ourselves - it was a friendly game. Maybe it would have been different if it was a competitive game. I don't think we embarrassed our people. We played football, " said Mosimane.