WC Qualification Africa
Phil Masinga: Safa should appeal Fifa's decision for Bafana Bafana-Senegal World Cup qualifier replay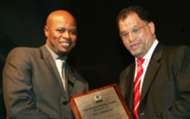 Legendary Bafana Bafana striker Phil Masinga couldn't hide his disappointment following the national team's performance in their back-to-back defeats to the Cape Verde Islands.
"The first game was not a good performance at all. We struggled to cope and play to our strengths. The second game, we managed to do better but we didn't do our best in terms of utilizing the advantage we had (of playing at home) and taking our chances," Masinga told Goal .
The defeats have left the nation calling for changes, particularly that of head coach Stuart Baxter as Bafana slipped to the bottom of Group D log.
To make things worse for Bafana, Fifa ruled that their clash with Senegal which they won 2-1 in Polokwane last year, was null and void and ordered a replay.
"It's disappointing for our national team because we had hoped to utilize those three points in our advantage in the remaining games, especially going away to Senegal," Masinga said.
Safa has since confirmed they have will study the contents of the report by Fifa to determine whether or not they will appeal the decision.  
"I think Safa should consider appealing that because the referee's decision on the game is final, and I believe they should just review the referee's performance because his decision is final than to replay the game," Masinga concluded.