Transfers
Percy Tau signs for Brighton & Hove Albion from Mamelodi Sundowns
South Africa Chief Editor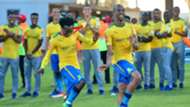 Premier League side Brighton & Hove Albion have confirmed the acquisition of Percy Tau from Mamelodi Sundowns on a four-year deal.
The 24-year-old attacker had been in talks with the Premier League side over a possible move for a while, and following Patrice Motsepe's intervention a few weeks ago, Sundowns finally allowed him to leave. 
Tau jetted off to the UK this week to undergo a medical which he passed on Thursday, and the deal has been concluded as announced by the club on Friday afternoon. 
Brighton confirmed the transfer on their website, but announced that Tau will be loaned out for the upcoming campaign. 
Manager Chris Hughton said: "Percy is a player we have highlighted for the future, and there is no doubting his talent, having been voted South African player of the season."
 
"Percy will go out on loan this season, play regularly and get some experience of European football. We will be watching his progress and monitoring his development over the season," said Hughton.
Tau reacted to his move abroad, saying he doesn't mind going out on loan to develop as a player. 
"Going out on loan is always good to help a player develop and get better. It's new for me to be in Europe, and I'll get to work on myself and a few things that I need to improve," he told the Brighton website. 
 
"I'm hoping to get a better understanding of the game from playing there. It's a different approach to what we're used to in South Africa. It's exciting football," said Tau. 
The left-footed player admitted that he had a great final season with Sundowns, and he is now willing to create new memories in Europe.   
 
"Last season was great. I got a few personal achievements, but we won the league as well, which is something that means so much to me. I'm happy to have gone down that path, but it's over now and it's time to make new memories," he added.
 
"This move should help me play more international football. I'll be learning a lot, which will also be good for my country."
 
"Hopefully, I can make some great memories here - I love making memories and I'm so happy to be here. I'm very impressed with the facilities, they're better than what I'm used to. It's something I expected and it's a better place to be," concluded Tau.