Manchester City
Pep won't say it, so I will: Man City are the greatest Premier League team ever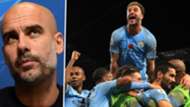 Manchester City dropped only 14 points last season on their way to England's first ever 100-point top-flight total. So far in 2018-19, 15 of the 20 teams in the Premier League have dropped more than 14 points, including Manchester United.
It seemed impossible that City could improve on last season's imperial march and yet the signs are that they have, even if their two Champions League games with Lyon have offered some hope that there is a way to subdue Pep Guardiola's team.
After 13 games in 2017-18 City had two more points and two more goals - and an eight-point advantage over second place - but crucially for our understanding of how they've progressed, this season they've let in three goals fewer.
Five goals conceded by Manchester City; five goals conceded by Liverpool. That combined tally of 10 is the lowest by the leading two after 13 games in the entire history of England's top-flight, but while this pivot to defending has seemingly stymied Jurgen Klopp's team, given they've scored more than three times only twice, City have scored four against West Ham, five against Cardiff and Burnley, and six versus Huddersfield and Southampton.
Goals conceded is the headline figure, but underneath Pep's gleaming bonnet we can glimpse the parsimonious workings.
City have allowed their opponents only 11 clear-cut chances this season (opportunities where you'd expect your opponent to have a better than 50/50 chance of scoring). Five of those have been converted, so in other words every Premier League goal City have let in this season has been an opportunity you'd expect the opposition to score.
The last two of those goals have been penalties, with this Saturday, December 1, marking three months since City conceded a league goal from open play.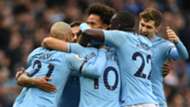 Incidentally, of the teams currently in the top four of the league, Chelsea's position looks the least sustainable.
They have allowed more than twice as many big chances as City, and, for reasons no-one can truly explain, the opposition has contrived to miss 17 of them, with Kepa Arrizabalaga only saving twice. Their trouncing by Tottenham last weekend had been in the post for some time.
City, meanwhile, boast the most accurate passer in the Premier League in John Stones (95% passing accuracy) and the player with the second most passes, behind Jorginho, in the form of Aymeric Laporte, with 1151 passes.
That central defensive partnership is rapidly approaching flawless status and is one of the key reasons behind City's shots on target allowed per game rate being a mere 1.92, with Guardiola's men on course to become the first team in recorded Premier League history to allow fewer than two per game.
| Season | Team | Shots on target faced/game | Manager |
| --- | --- | --- | --- |
| 2018-19 | Manchester City | 1.92 | Pep Guardiola |
| 2004-05 | Chelsea | 2.18 | Jose Mourinho |
| 2007-08 | Liverpool | 2.29 | Rafael Benitez |
| 2017-18 | Manchester City | 2.32 | Pep Guardiola |
| 2018-19 | Liverpool | 2.38 | Jurgen Klopp |
| 2005-06 | Chelsea | 2.47 | Jose Mourinho |
| 2005-06 | Liverpool | 2.63 | Rafael Benitez |
| 2006-07 | Chelsea | 2.63 | Jose Mourinho |
| 2006-07 | Liverpool | 2.66 | Rafael Benitez |
| 2004-05 | Manchester United | 2.68 | Sir Alex Ferguson |
And looking at the other teams in the table, the majority of them are rightly renowned for their defensive prowess but they rarely offered what Guardiola's City do going forward.
The Chelsea side of 2004-05 conceded only 15 goals all season - and two of those came after the title had been sealed - but they managed only 72 themselves, a total City at their current rate will hit by game 24 in late January.
In a sport where teams have traditionally had to be good at the back or good going forwards, Guardiola has found a way to do both, and has almost certainly crafted the most effective side in Premier League history.