Barcelona
Guardiola will be whatever he wants at Barcelona, says Laporta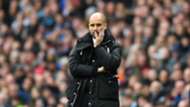 ---
EXCLUSIVE
---
Former Barcelona president Joan Laporta says he would love Pep Guardiola to return to the Catalan club as coach one day, but claims "he will be whatever he wants to be" at Camp Nou in the future.
Laporta appointed Guardiola as coach in 2008 in a decision that was questioned at the time but turned out to be a masterstroke as Barca embarked on the most successful spell in their entire history, winning a treble in 2008-09 and six out of six trophies in a glorious 16-month period.
"I thought it was the most logical [decision]," Laporta told Goal in an exclusive interview. "There were people who didn't and we had arguments with all of the board, but I was clear because I spoke to colleagues and I had the majority in the board, so i was clear that Pep would come and I told him.
"He told me I wouldn't dare. But I always say it: we thought it was a good decision and that it would go well. We wanted it to go very well, but the reality surpassed the greatest expectations we had.
"It turned out to be excellent and it was the best thing that happened in the history of Barca because on top of that there was a season when we won everything: Liga, Copa, Champions, UEFA Super Cup, Supercopa and Club World Cup. And a 2-6 at the Bernabeu. That was a year that could be equalled, but I don't think it could be surpassed…"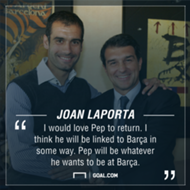 Laporta left in 2010 as his mandate came to an end, but Guardiola stayed for two more seasons and won a total of 14 trophies out of a possible 19 in his time as coach before taking a sabbatical and then moving to Bayern Munich for three seasons and later to Manchester City.
Messi is a gift from heaven - Laporta
Guardiola was a popular player at Barca as well and part of Johan Cruyff's great team that won the club's first European Cup in 1992 and four straight Liga titles between 1991 and 1994. So could he come back as coach one day?
"As a culé , I would love that," Laporta said. "He will decide. Pep has sufficient character, Pep has never stopped feeling a culé , and that's normal because as a player he was there from the youth team, before achieving maximum success as a player and as a coach. We will see.
"But I think he will be linked to Barça in some way. In the collective imagination of the culés , he is always there. What he did was magnificent. He's a coach with extraordinary knowledge, who loves the club loads, he feels it, he has exceptional bravery and charisma, so for me, in the collective imagination of Barca, Pep Guardiola will always be present. Just like Cruyff will always be present.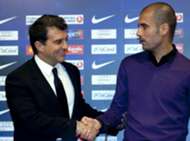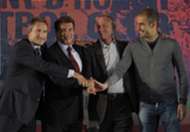 "And Pep is developing his career as a coach… he went to Bayern and was successful and I'm sure he will be successful at City. In the future, we will see. Pep will be whatever he wants to be at Barca."
N eymar camp confirm PSG will pay €222m fee
In the meantime, Pep is preparing for his second season at City after missing out on a major trophy for the first time in his career in his debut campaign. Nevertheless, Laporta is sure he will win things in England.
"They are working very well for the new season," he said. "With the signings, I can see that they are working very well. And the team has now had a year with Guardiola's system, they will have it more assimilated, and I believe City will be a rival to beat this year.
"Knowing Pep, they will do really well. Txiki [Begiristain] is there too, Ferran [Soriano]… I think they will be a rival to beat."