Manchester City
Guardiola: I wanted to play for Newcastle under Bobby Robson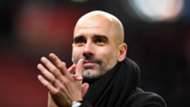 Manchester City manager Pep Guardiola has revealed that he wanted to join Newcastle United in 1999 to team up with Bobby Robson.
The City coach has shown great admiration for the former England manager for whom he played under at Barcelona in the 1996/97 season.
Guardiola explained how he was ready to leave Barcelona for St. James' Park in a new film due to be released on June 1 called 'Bobby Robson: More Than A Manager.'
"I am going to explain something secret," Guardiola said.
"After the purge in Barcelona, he went to Newcastle and I sent him a letter to offer me the chance to go to him and play at Newcastle."
"One of my dreams would have been to have played in England," Guardiola revealed.
"He answered me and said it was not possible because he had a lot of quality and he was right, but, even in that tough moment, he was always so kind.
"He wrote a simple letter and it was like it meant so much more. Bobby is one of the nicest people I have ever met in my life."
Guardiola would go on to follow in Robson's footsteps by becoming Barcelona manager in 2008.
Pep is now regarded as one of the best managers in the world but if it hadn't been for Robson he might never have made the step up to become a coach after his playing career was over.
Guardiola said that Robson's ability to keep a cool head even when he was under a lot of pressure inspired him, with Robson having succeeded in filling the shoes of the iconic Johan Cruyff.
"I learned, when I saw him, how lonely the manager feels. And, in the bad moments, how always he had a typical smile.
"In my case, in that ­situation, it would have been impossible to react how he did. I know, for him, it was a tough period. I learned a lot because, in that ­period, I thought, 'I want to become a manager.'
"How he handled that situation was incredible. I admired him a lot. It doesn't matter what the media says or everyone pushing he would always try to be calm."