Portugal v Switzerland
'Penalty to someone!' - VAR chaos ensues in Switzerland's clash with Portugal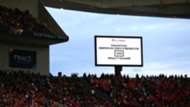 Video assistant referees were once again the subject of controversy on Wednesday in Switzerland's Nations League semi-final clash with Portugal.
Referee Felix Brych was at the centre of a major decision during the game in Porto, as VAR wiped out a Portugal penalty by deeming a foul on Switzerland seconds earlier had warranted a spot kick.
Down a goal in the second half, Switzerland had an appeal for a penalty when Nelson Semedo dragged down Steven Zuber in the penalty area, only for the referee to call for play to continue.
Portugal marched down to the other end before earning a penalty of their own as Bernardo Silva was dragged down in the box.
However, after consulting VAR, the official determined that the incident involving Semedo and Zuber had indeed been a foul, awarding Switzerland a penalty while wiping away the one earned by Portugal.
Ricardo Rodriguez stepped up to bury that shot from the spot, beating Rui Patricio to his right to tie the game at one goal apiece in the 57th minute.
Portugal had initially taken the lead in the 25th minute on a free-kick goal from Cristiano Ronaldo.
The Juventus star would go on to decide the game, as he scored twice late in the match to complete his hat-trick and give his side a 3-1 win that sees them into the final.
GOAL! Switzerland are level after some crazy VAR scenes. Portugal thought they had won a penalty at one end, but the referee checked for a handball at the other 🤯 pic.twitter.com/RO9jqeBh5d

— Goal (@goal) June 5, 2019
Worth watching the Nations League semi for the strangest VAR moment and a preview of how mental next season will be in the Premier League. #PORvSUI

— Ashley Blaker (@AshleyBlaker) June 5, 2019
If that VAR call was designed purely to spite Ronaldo then I can get behind it

— Tom Victor (@tomvictor) June 5, 2019
Switzerland's penalty was given for a trip in the area, not a handball. But with VAR, who really knows anyway? #NationsLeague pic.twitter.com/YSnux1AqCc

— Goal (@goal) June 5, 2019
VAR YOU KIDDING ME!?

Switzerland ask for a penalty, not given, Portugal get given a penalty up the other end, VAR brings it back and gives the Switzerland penalty, Switzerland score.

MAD!!!!! #NationsLeague

— JΛKE BUCKLEY 🇦🇺 (@TheMasterBucks) June 5, 2019
Penalty for someone. The best VAR ever.

— Max Rushden (@maxrushden) June 5, 2019
Me trying to figure out this VAR tomfoolery to understand why Switzerland got a penalty and not Portugal in #PORSUI 🙄🇵🇹 pic.twitter.com/8xiC76FejJ

— Stephanie (@LIVAUDAIS) June 5, 2019
UEFA nations refs be like, I gotta check VAR for this one... pic.twitter.com/aLZQtYOJTz

— leonardo (@laryfishsherman) June 5, 2019
>Can't wait for Premier League VAR next season😵😨

— Rodney Marsh (@RodneyMarsh10) June 5, 2019
Portugal: Did we get the penalty?
VAR:#PORSUI pic.twitter.com/nyhQOB8Bt2

— Nicolas 🏳️‍🌈 (@nicokont) June 5, 2019
Bernardo Silva must be sick of VAR at this point.

— SR (@Blissistheone) June 5, 2019