WTF
Penalty chaos in Serbia sparks sit-down protest and clearances out of the ground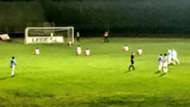 How do you respond to the awarding of a contentious penalty? Well, in the case of Borac Cacak you stage a sit-down protest!
The Serbian side did not take too kindly to seeing the referee in their First Division game with Spartak Subotica pointing to the spot, and decided to take drastic action.
So infuriated were they with the decision that two players saw red and were ordered from the field.
Players followed the ref around for a few minutes protesting and 2 red carded for pushing him pic.twitter.com/TiN2DkJdDj

— Matt White (@Matt_CAFC) November 19, 2017
Those remaining then proceeded to park themselves on the turf  at the start of the second half and refuse to take any further part in the contest.
Absolute scenes penalty awarded to Spartak two sent off and Borac threatening to walk off and now a sit down protest! Borac players restart but are deliberately kicking the ball out of the ground #SerbianGH3 pic.twitter.com/U5JsdK193U

— Peter Miles (@PeterRMiles) November 19, 2017
The remarkable scenes – which lasted around five minutes - did little to aid Borac's cause as the spot-kick they were so incensed by had already been converted.
With the game clearly slipping away from them, the nine-man outfit then proceeded to drag the game further into farce during a chaotic second 45 minutes.
Goalkeeper Vladimir Bajic was the main culprit, with the Borac goalkeeper taking every opportunity he got to further delay the game and anger the officials.
He took to clearing the ball directly out of the stadium every chance he got, much to the bemusement of those in attendance.
Borac Čačak goalkeeper has been kicking the ball out of the stadium every time he gets the ball and at goal kicks. Crazy scenes! pic.twitter.com/kmORjT5tfb

— Matt White (@Matt_CAFC) November 19, 2017
Among those at the game, which ended 3-1 to Spartak, were a number of English tourists, with the Serbian media claiming that a Manchester City scout formed part of that group.
The events he witnessed stand in stark contrast to those currently being offered up at the Etihad Stadium, with it difficult to imagine Pep Guardiola's Premier League leaders staging a sit-down protest when decisions do not go their way!