Barcelona v Real Madrid
Kluivert: Champions League success for Madrid would be better than Barca's double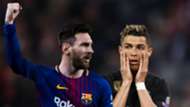 Barcelona legend Patrick Kluivert has said that Real Madrid will have had a better season than Barcelona if they can clinch a third successive Champions League.
The former Netherlands striker said that a Champions League win would eclipse Barcelona's domestic double.
The Dutchman won Europe's premier club competition with Ajax in 1995 and said that it is the biggest achievement in football.
Speaking at a golf tournament - El Desafío Nacex (The Nacex Challenge) - which is played between Madrid and Barca legends each year, Kluivert said:
"The Champions League is the biggest award any club can win but it is very hard, wining a double is good as well but winning the Champions League is better.
"I would prefer to play a UCL final and win it because if you lose it and you don't have a double, it is not good either.
"Real Madrid are playing well and they always do what they have to do.
"The Champions League is the most important title, but if Real Madrid don't win it, it will be much harder next season."
Madrid and Barca play in El Clasico this weekend and Madrid have caused a lot of controversy by refusing to give Barcelona a guard of honour (pasillo) after winning La Liga.
"I don't understand why Real Madrid won't do the 'pasillo', they probably have their reasons but for a respect fact they should do it even if we must respect their reasons," said Kluivert.
Ahead of El Clasico, Kluivert spoke about the two teams and their star players.
"First of all, Messi is the best for me but he can't do it all alone; let me think about it because I don't want to say anything I could regret!
"Barcelona is Barcelona and Madrid is Madrid, one can win UCL and the other has a double, all of them play for victories.
"Messi and Ronaldo are different players, both in the highest level and each one deserves good words from everyone.
"But Messi was born with an impressive talent; Ronaldo did too, but he had to work harder to reach that level."