A. Sánchez
VIDEO: Ospina helps knock Alexis Sanchez out of World Cup after incredible free-kick blunder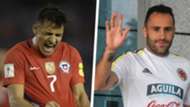 David Ospina would probably do well to avoid Alexis Sanchez when he next sees him at Arsenal training.
The Chile international is likely to be less than happy with his Gunners team-mate after a huge, albeit accidental, error helped ruin his hopes of appearing at World Cup 2018.
Unfortunately for Alexis, Colombia goalkeeper Ospina pushed Paolo Guerrero's indirect free-kick into his own net in the 1-1 draw with Peru - a goal that would have been chalked off had he not got a touch due to the rules of the taking of an indirect set-piece.
The strike earned a point for Peru and sent them into the World Cup play-offs, at Chile's expense, with Colombia securing an automatic spot for next year's tournament in Russia.
Leave it!

David Ospina's fatal touch on Peru ace Paolo Guerrero's indirect free-kick put Arsenal team-mate Alexis out of the World Cup. pic.twitter.com/CxDu4e15lz

— Goal (@goal) October 11, 2017
The Chileans, who were well-beaten by Brazil in their final qualifier, ended up finishing sixth in the CONMEBOL final standings, with Peru one place above them in fifth.
You can watch Ospina's blunder in the clip above!