World Cup
'Ospina could play for any club in the world' - Arsenal keeper urged to consider move and forget mistakes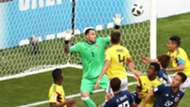 David Ospina has been advised to consider his Arsenal future this summer, with fellow Colombian Faryd Mondragon of the opinion that the 29-year-old could play for "any club in the world".
Much of the experienced goalkeeper's four years at Emirates Stadium have been spent as a back-up option, with Petr Cech having been the favoured choice of the Gunners in recent years.
His situation appears unlikely to change in 2018-19, with Arsenal having moved to snap up Germany international Bernd Leno from Bayer Leverkusen.
Taking that into account, Ospina has been urged to put his skill set to better use elsewhere.
Mondragon told Goal at World Cup 2018: "Players need game time to get used to the pace of competition.
"It would be better for him to have more continuity and I am sure he is contemplating that option because he could play for any club in the world."
Ospina did not cover himself in glory on his last outing for Colombia, as he rather flapped at a delivery which led to Japan sealing a shock 2-1 win in their opening Group H encounter.
He has, however, been called upon to put costly mistakes to the back of his mind by a man who has previously offered words of comfort in times of trouble.
Mondragon added: "Ospina is very important for Colombia.
"He made only one mistake against Paraguay in the qualifiers.
"In Lima, after that game, I went to the locker room to talk to him. He saw me and tears came out because he was under a lot of stress.
"I told him that I was happy that he made a mistake because that is a good way to prove that you are human. I told him he had been playing without mistakes for five years."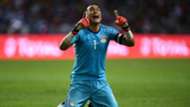 While backing Ospina to come good at Russia 2018, Mondragon could see that tournament scratch his name from the record books.
He is currently the oldest player to have turned out at a World Cup – at the age of 43 years and three days in 2014 – but Egypt's Essam El-Hadary could top him if he appears in a final group stage clash with Saudi Arabia at the age of 45.
"If they include El Hadary he will break my record, so I will be sad," said Mondragon.
"If he plays for the national team at this age it is because he deserves that. When you are part of an elite team at this age it means that you can contribute.
"He is in good shape because I saw him in the friendly against Colombia.
"Hopefully they will do all the tributes in his country and not at the World Cup."