Young Africans
Nsajigwa: We want to win away from home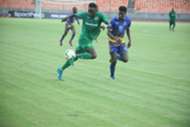 Following their home defeat against Township Rollers in the CAF Champions League first leg tie, Yanga's assistant coach Shadrack Nsajigwa has claimed that they want to win in the second leg in order to move forward to the group stage.
The second leg will be held in Gaborone on March 17 were by the host will head to the match with a 2-1 advantage.
Speaking in his post-match press conference, Nsajigwa said that ahead of the clash they will work on their mistakes and they will try to push harder in order to get an away goal which will be the key for them.
"We saw them play today, they are very good team but they can be defeated even at their home ground, what we want in the second leg is to win in order to move forward," said Nsajigwa.