Saifullah Akbar
NS not a problem for Singapore's next Hariss Harun, as Saifullah Akbar prepares for trial with Tenerife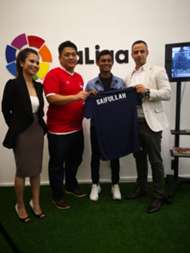 Described as one of the best emerging young talents to currently grace Singapore's top flight, Saifullah Akbar, has been touted as the next big thing in Singapore football.
At just the tender age of 19, he has demonstrated technical capabilities that belies his tender years and a level of maturity that is similar to his idol; Singapore national team captain, Hariss Harun.
A testament to his abilities is how the former Tampines Rovers youngster was shortlisted by three Spanish clubs – C.D Tenerife, U.D Las Palmas and Girona FC – but eventually opted to go for trials with Tenerife from August 7 to 18.
He was also offered a contract by A-League club Newcastle Jets at the age of 16, only to be restricted from signing a professional contract due to FIFA's youth policy.
Significantly Saifullah will now join the growing list of local footballers which includes Fandi Ahmad and Sundramoorthy, and his contemporary counterparts such as Ikhsan Fandi, to have a crack at European football.
In an interview with Goal Singapore, Saifullah explains how he felt about this opportunity and the hurdles he will face in his journey to achieve his dream.
What were your thoughts when you knew you secured a trial with Tenerife?
I feel happy and blessed because after missing out on two years of football due to NS (National Service).  I am very happy to be done with it and this allows me to go to Spain and chase my dreams. All in all I am truly honoured and thankful for this opportunity.
We have had local players having stints in Europe before with the likes of Adam Swandi and Irfan Fandi. What do you think separates you from them?
Maybe it's the desire to achieve my dreams. I remember deciding to enter NS early in order to be able to focus fully on my dreams and secure a longer period of time playing overseas. If you look at my age I am still only 19 and I have bags of determination and desire that can, allow me to carve out a successful career in Europe.
Did you feel in any way NS impeded your footballing dreams?
I wouldn't be able to comment for all, but what I can say is this. Look I am a Singaporean and I already knew from the first day that I would have to go through this (NS). I didn't think too much about the issue. With that being said, NS isn't an obstacle for me because with hard work, I believe you can still pursue your dreams.
What do you think are some of the challenges you might face in Spain?
I would say it's the physicality mostly but also the level of intensity of the games there. Although I know what to expect and can adapt within the first two days because I have had trials with FC Metz and also A-league club Newcastle Jets.
As its plain to see the Europeans are bigger in size but I believe given my past experience I am confident of countering this problem. I firmly believe size does not matter. Tactically and technically, I am not so worried because the last two years I played with Tampines Rovers' first team under coach Sundram who is an excellent coach.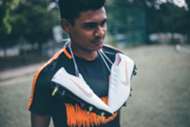 What was it like being under the tutelage of coach Sundram?
At first I went down to training and he spotted me. From then on he wanted me to train with Tampines' first team. From there on, it showed how much he believed in my abilities and he helped me by not curbing my creativity on the pitch.
He would tell me to dribble freely yet at the same time he would dish out advice on when to do the right things at the right time. He is one of the coaches I look up to and when I am chasing success, it will also be partly for him.
How confident are you of in succeeding in this trial with Tenerife?
I am highly confident. Previously, my dad went to the club earlier and informed me that they are more of a side that prioritises technical skills. This I believe sits in well with my style of play and gives me an even better chance to succeed.
If you look at the Spanish players they are not blessed physically but that is why they focus on technique and that is something I have incorporated into my arsenal.
Growing up who was your idol in local football?
Locally, it was always Hariss Harun. His determination and how he works for what he wants shows how much he is as an idol for me. Also, he broke into the national team at such a young age around 16-17 years old.
On the other hand he is still doing well in Malaysia and is very stable with his career. He is one of those players that you see not trying to find a club for a contract. Even though his success might be in Malaysia but he was adventurous enough to try his hand in Europe. It might not have worked out but he is still a success story for me.
I hope to follow in his footsteps someday and captain the national team. Some coaches have said I can be the next Hariss Harun, but we will see.