Australia
'Nowhere near enough' - Aloisi calls for more Aussies to play in Europe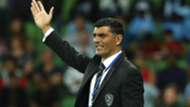 Former Brisbane Roar coach John Aloisi has called on more Australian players to test themselves in Europe and concedes there has been a shortage of talent produced in recent years.
Aloisi enjoyed stints in Belgium, Italy, England and Spain as a player with his most notable stint coming with La Liga side Osasuna - who have just sealed promotion back to the top-flight. 
Speaking to La Liga, Aloisi admits there is a shortage of Australian players in Europe at the moment and he hopes to see a few follow in his footsteps and play in Spain in the future. 
"First of all we haven't been producing enough top talented players over the last few years," Aloisi said.
"We've got a couple now playing in the Premier League but we haven't go nowhere near enough [across Europe].
"It would be great to see more Australian players not only here in Spain but across Europe in the top leagues.
"I love La Liga and I want to see an Australian do well here."
The last Australian to play in La Liga was Mat Ryan, who spent two seasons with Valencia, while Alex Chidiac is currently contracted to Atletico Madrid in the Primera Division.
Having played over 100 La Liga games for Osasuna and Alaves, Aloisi believes the competition is the best in the world. 
"It is the best league to watch, the best league in the world with the biggest stars and probably the best player we've ever seen in Lionel Messi," he said.
"Every team has a certain history behind it."