UEFA Champions League
Nobel Carpet rewards Champions League 'Predict & Win' winners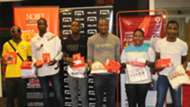 The Uefa Champions League 2017 ended in a big win not only for Real Madrid but also for some ardent football lovers as Nigeria's leading manufacturer of soft floor covering, Nobel Carpets and Rugs in partnership with Goal.com and mobile phone brand, ITel surprised football fans in the "UEFA Predict and Win" competition.
The brand's followers that took part in the competition were to correctly predict the outcome of the final match between Real Madrid and Juventus and 20 fans who predicted correctly were duly rewarded with different prizes ranging from footballs, jerseys, headsets, wristwatches, mobile phones and different shades of soft floor coverings.
Speaking at the prize presentation to the twenty lucky winners at the Nobel Carpets' headquarters in Lagos, the Head, Digital Marketing, Nobel Carpets and Rugs, Adekoya Kazeem said: "There is no better way to reward our followers' loyalty to sports; especially football in Nigeria than through an avenue like this.''
''We are pleased as a brand to present these prizes to our fans being true to our words. This is one of the platforms we have decided as a brand to engage with our followers on and we intend to do this more often."   
One of the winners, Oluwatobi Samuel celebrating said "I can't believe it; I was given all of these exotic gifts for predicting correctly the outcome of the finals. I'm happy I won and also grateful to Nobel Carpets, Goal.com and iTel Mobile.''
In his own remark, Marketing Communications Manager, itel Mobile, Oke Umurhohwo revealed that the online competition will not be a one-off engagement as the partnering brands will continue to invent means to satisfy their numerous customers in every way and by every means possible.