MLS
No shots in 120 minutes! Sounders confident their attack will be better in MLS Cup rematch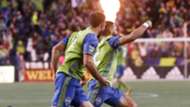 TORONTO — Brian Schmetzer is as mild-mannered a coach as you will ever meet, but if you want to get his ire up, tell him his Seattle Sounders parked the bus in the 2016 MLS Cup final.
It is a notion that has been baked into the lore of Seattle's MLS Cup final victory over Toronto FC, after the Sounders failed to register a single shot on goal through 120 minutes but managed to win in a penalty shootout. One year later, the Sounders head toward a rematch with TFC boasting a stronger attack, but Schmetzer disputes the notion unequivocally.
"That's the one thing that always rankles me a little bit because here's the deal: No coach is going out there to not score goals," Schmetzer told Goal on Wednesday shortly after the Sounders arrived ahead of Saturday's final. "So when I watch the final in 2016, Joevin Jones had gotten down the left, he didn't finish the play. Tyrone Mears had a naked early cross to Nelson [Valdez] early in the game. We were trying to score. It was just on that day Toronto was very good defensively, we couldn't get out of our half."
While the teams and location may be the same for this year's final, a revamped attack has the Sounders confident they will be able to test TFC's defense in a way they weren't able to a year ago.
Watch MLS live and On-Demand with fuboTV (7-day free trial)
"You fast forward now to this year and the team is playing at a high level," Schmetzer said. "Clint [Dempsey] is playing at a high level. Victor [Rodriguez] is playing at a high level, and he's been good for us because he's goal dangerous. Will -Bruin] is obviously in a good run of form. You've got [Nicolas] Lodeiro, and our guys on set pieces are pretty good. We do have a few weapons where we're hoping, again, same as last year, we're going to play the same. We're going to try and get the ball up in their half of the field and score."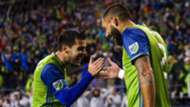 The Sounders attack has found a good rhythm during the playoffs, with Dempsey in top form, and with Bruin establishing himself as a force in the target forward role. His matchup with TFC's center backs will be key to Seattle finding more success offensively than a year ago.
"They've got a good system, and play that system well," Bruin said of Toronto FC. "We're probably going to go over more tactics once it gets a bit closer, but I think we're going to be able to find spaces where we can exploit them."
Victor Rodriguez has also helped the Sounders create more chances and goals since recovering from an injury suffered late in the regular season. The skilled Spanish midfielder has found a good understanding with his teammates and will play a key role in the Sounders' attempts to break down TFC's stingy defense.
"We have a good feeling, the players in the attack, we understand each other well and we try to train for that, to improve day after day," Rodriguez said. "We know the game on Saturday is very complicated, and maybe they won't let us combine so much, because they're going to come in, in a manner of speaking, with the knife in their teeth. But we're going to try and play our game, and do things well and hopefully things work out."
The Sounders should boast a more effective attack in Saturday's final, but Schmetzer sees them carrying over one key trait from last year that served them well in lifting the MLS Cup.
"We will have a better squad maybe, from the soccer perspective, yes," Schmetzer said. "From the mentality side, I think the 2016 and the 2017 team are similar. They both have a really strong mindset."