Mexico
No more moleros? Mexico's Argentina trip hints at changing strategy for FMF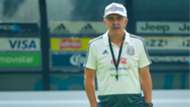 Ask any Mexico fan what the label for a El Tri friendly of little meaning is, and they'll know. Especially if takes place in the U.S., that game is a 'molero'.
The term was invented by current Mexico interim manager Ricardo "Tuca" Ferretti himself.
While Ferretti is leading the team after Juan Carlos Osorio's departure and before a new manager is named next month, he hasn't softened his criticism of Mexico's frequent matches in the United States rather than scheduling games like Friday's contest against Argentina and the subsequent match against the South American giant next week.
"The simple act of leaving a comfort zone, of not playing in the United States every match, speaks to the intention of the directors to get better in the sporting aspect - which from my point of view has been forgotten about a little," Ferretti said at a news conference Thursday.
"I'm not against the commercial, but now they're thinking about a better balance between the two areas. If the sporting side arrives to its highest possible point, the other will come on its own."
Simply playing a strong team hardly guarantees it will be a positive trip, though. Mexico has run into a number of logistical issues during its journey to the interior of Argentina. There were delays in Buenos Aires and the delayed arrival of equipment meant the team did a gym session rather than going through full training Tuesday. The hotel where the team is staying is average - far from the quality of accommodation the team receives during its trips to the United States or within Mexico.
These are things the players will have to sacrifice. The new manager's salary is going to have to come from somewhere, but Ferretti has a point in that a Mexico national team that is successful on the field will hardly need any marketing. Get to a fifth game or even a World Cup semifinal and the tickets will sell themselves.
That's tougher to do right now, though, with the World Cup a full four years away.
Coach after coach has asked for Mexico to take on a more competitive schedule and for players to leave the comforts of Liga MX to challenge themselves in the world's best leagues. It's a bit hypocritical for Ferretti when he himself has done the same, staying in Mexico for decades rather than pushing for a European job like former rival Antonio Mohamed.
Last week, former Tigres defender Timothee Kolodziejczak told the French press that Ferretti's coaching methods are stuck in the past compared with the managers he's worked with in Europe. With Ferretti and with his players it's clear that economic interests, and not wanting to lose what you currently have, are important not only to the Mexican federation but to coaches and players as well.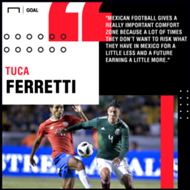 "Mexican football gives a really important comfort zone because a lot of times they don't want to risk what they have in Mexico for a little less and a future earning a little more," Ferretti said Thursday of the players who opt to stay in Liga MX.
The economic realities will continue to rule for all parties, but even if the Mexican federation decides to earn less in the short-term to have more success on the field in the long-term nothing seems certain right now. As we've seen from this double-billing with Argentina, it's not easy to find top quality teams to partner with.
In Europe, every team has at least one Nations League match per window, making it tough to schedule a pair of competitive clashes on the old continent. There are only 10 countries in CONMEBOL and geography (and commercial flight routes) make Africa and Asia tough destinations to reach in a short period of time.
Plus, Concacaf is starting its own Nations League that Mexico will take part in from fall 2019 on. Exactly how that will look is yet to be announced, but it's safe to say the team's frequent friendly matches may be less frequent. Some fans already are complaining about Nations League as a burden, but it will see Mexico play competitive games against teams like the U.S. and Costa Rica on a more regular basis.
Will it be good for El Tri in the long term? It's tough to say until we see the plans. What we do know is that with fewer friendly matches, there will be a pull to get as much out of those games as possible.
For now, Mexico fans can enjoy a pair of games against a high-quality opponent and have at least some hope that the future will see far more matches like the ones we'll see this window and fewer games that seem to be scheduled simply for business purposes.