U18 League
Nike Premier Cup 2018 - What, when, where, how - All you need to know!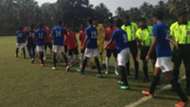 ---
What is the Nike Premier Cup? 
---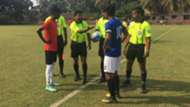 The Nike Premier Cup, organised in association with the All India Football Federation (AIFF), is a highly popular youth tournament in India in the U15 category. The 2017-18 edition is the third installment of the tournament in which more than 50 of the best youth teams from across the country partake. 
Nike Premier Cup acts as the U15 Youth League in India.
Interestingly, it was remodelled from the U15 category into the U16 age group last year in order to spot talents for the India U17 team which participated in the 2017 FIFA U17 World Cup held in India last October. 
---
When & where is the 2017-18 edition being held? 
---
The national finals of the Nike Premier Cup is being held in two venues - the Nagoa Ground and the Utorda Sports Complex in Goa from January 29, 2018. 
16 teams are participating in the final stage and they have been divided into four groups.
The semifinals have been scheduled for February 6th and the final is being held on February 8th. 
---
Qualified teams
---
The 16 teams participating in the National Finals of the Premier Cup qualified for the same after coming up trumps in the Qualifiers and the Zonal stages. 
The Zonal stages were held in Bengaluru, Chennai, Delhi, Goa, Kolkata Maharashtra, Gujarat, Shillong and Guwahati.
Bengaluru FC qualified from Bengaluru stage while Chennaiyin FC and Raman Vijayan Soccer School came through the Chennai leg. Bhaichung Bhutia Football Schools won the Delhi leg while Churchill Brothers and FC Goa qualified from Goa. East Bengal (Kolkata), Reliance Foundation Young Champs and FC Mumbaikars (both Maharashtra), Sports Authority of Gujarat (Gujarat) and SAI Guwahati (Shillong-Guwahati) also made it to the final stage. 
In addition to this, teams from the rest of country were divided into six groups. The teams who performed there had to further negotiate a playoff stage, with Aizawl FC, Minerva Punjab, MSP Football Academy, Real Kashmir and DSK Shivajians coming up trumps. 
---
Format
---
The 16 teams have been divided into four groups and the group winners progress to the semifinals, from where the finalists who will battle for the top honour will be determined. 
Here are the groups for the National Finals: 
GROUP A: Bengaluru FC, MSP Football Academy, SAI Guwahati and FC Goa  
GROUP B: Reliance Foundation Young Champs, Bhaichung Bhutia Football Schools, Aizawl FC and Real Kashmir FC
GROUP C: Chennaiyin FC, FC Mumbaikars, Churchill Brothers, Minerva Punjab
GROUP D: Sports Authority of Gujarat, DSK Shivajians, Raman Vijayan Soccer School and East Bengal 
---
Previous winners
---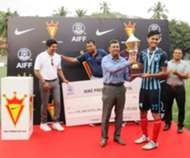 Minerva Punjab FC are the defending champions of the Nike Premier Cup, having won both the previous editions.
In fact, last year's tournament saw the emergence of some of the star names of the India U17 team like Jeakson Singh, who scored India's only goal in the FIFA U17 World Cup, Nongdamba Naorem and Anwar Ali.