Opinion
Nigeria are ignoring the real lessons from South Africa defeat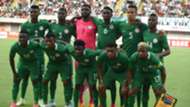 ---
COMMENT    By Solace Chukwu    

Follow on Twitter
---
At the core of the Nigerian worldview is a complete lack of introspection. The inability to critically consider one's own self, mining the lessons both from defeat and victory, is almost congenital.
This goes some way toward explaining some of the hyperbole that has characterized the public reaction to Saturday's shock Africa Cup of Nations 2019 qualification loss to South Africa in Uyo.
Bafana are no minnows on the continent, all things considered, and were directly responsible for the Super Eagles' absence from the 2015 edition. They have arguably the most well-run league on the continent in sub-Saharan Africa, and can draw on a solid contingent from reigning African champions Mamelodi Sundowns.
All of this to say that losing to them at home, while unexpected, is not necessarily the onset of an apocalypse.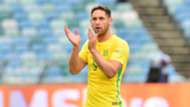 The real problem in the first place was probably in the level of expectation around what is essentially a young team, and a failure to account for context in analyzing the results of Gernot Rohr's much-vaunted unbeaten run.
Tanzania at home is a game the Super Eagles should always win. Yet there was some defensive uncertainty, and it was Kelechi Iheanacho's stupendous effort with less than 15 minutes to go that secured a result that looked in danger of never materializing.
A 2-1 win over Zambia in Ndola was actualized courtesy of a strong first half display, but then there was a worry over how quickly the team retreated in the second period, ceding ground and initiative. Quite conveniently, the coaching situation surrounding Chipolopolo at the time was not factored into any analysis; it was simply an impressive result, especially on the road.
Algeria at home saw Victor Moses cap a virtuoso personal display with his second of the game late on, and while it cannot be argued the victory was deserved in the end, Les Fennecs were good value.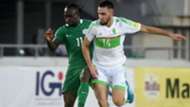 Aside the goals, the North African side created quite a few chances, and this in spite of the fact it was the first game in charge for the hapless Georges Leekens. Again, worrying defensive frailties escaped scrutiny.
If those results suddenly do not look as impressive now as they did previously, it is because a jolt like this was always coming, and arguably, was always needed. However, as the path of least resistance is being beaten down with abandon, there is that familiar despair: we are once again failing to learn the right lessons.
Reductively, the loss has been placed at the feet of the team's youth.
Experience is one of football's intangibles, but unlike more nebulous motivations like 'form', its influence is easy to rationalize and understand. The more times you have had to do something, the better you become at actually doing it. However, this assumes a basic level of competence to begin with: you have to know how to do it first of all, and then comes ease from constant repetition.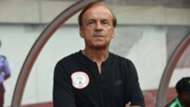 Experience then is meant to provide an edge. It will negotiate choppy waters, but it will not correct faulty mechanics in the vessel. The real problem was not the (in)experience of the group, but the composition and set-up of the side.
A midfield three grossly lacking in guile and invention, a pair of full-backs unable to contribute meaningfully in the opposing half, and an isolated centre-forward: these were manifestations of a more fundamental problem than a simple shortage of caps.
By the way, would be uncharitable not to put a hand up and acknowledge this: South Africa were excellent tonight. #NGARSA

— Solace Chukwu (@TheOddSolace) June 10, 2017
The fact that the player most capable of providing calmness and creativity in the middle (captain Mikel John Obi) is also the most experienced in the team is incidental—teams are built on structure, not experience. If it were the case, coaching would be redundant and every national side would just trot out their 11 most capped footballers.
The loss has also led, somewhat predictably, to a backlash against players recruited from diaspora, the likes of which include Alex Iwobi and William Troost-Ekong. Interestingly, both were poor on the day, but this is not the point of the criticism; they have both, after all, played impressively in green and white previously. No, the narrative is a more insidious one, rooted in jingoism and tinged with xenophobic undertones.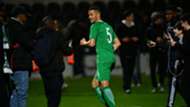 Given that, in general, there is a lack of tactical education within the NPFL, this is a problematic diagnosis.
It is also logically fallacious to say that home-based players are the answer, when there exists no evidence of this claim besides the inability to prove a negative: we similarly have no evidence that they are not.
It is worth remembering though that this clamour is not a new one: in the early 2000s, crowds would turn up to the National Stadium singing, "All we are saying, give us home-based"; their request, granted eventually, was then greeted by, "All we are saying, no more home-based" when the results were even less satisfactory!
Rather than a platform to pontificate, or to engage in the classically anti-intellectual argument of youth vs. experience, the lesson is simple but profound: if you come into a game with a clear plan, and select the personnel suited to carrying it out, you will win the games you should.
There was no clear plan, from kick-off to final whistle, on Saturday.
That, more than anything else, is the real worry.