Opinion
Nice guys finish first - Kante only getting better at Chelsea after Leicester heroics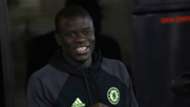 ---
COMMENT
---
One year ago, N'Golo Kante entered the spotlight for the first time in his life and has not left it since as his pivotal role with Leicester City shot him to football stardom. On his return to play at the King Power Stadium, for the first time since he left, we look into how far he can go after one of football's greatest ever underdog stories.  
His return on Saturday comes after the Foxes were forced to sell him after his release clause was activated by Chelsea ahead of his £32 million move. As Leicester drop down the table, Kante remains on top as he returns to the East Midlands after a season that shaped his career. 
Chelsea silent on Costa row rumours
The 25-year-old was influential for Claudio Ranieri's men last season and continues to be in a different Blue shirt, under Conte. It felt like a long time coming but the world has woken up to his talent as he finds himself being nominated in third place for the FIFA Best Player award, by the England manager, Gareth Southgate.
Some may disagree with Southgate's nomination, which saw Kante placed ahead of Messi in his personal rankings, but it is a sign that he has reached the unlikely spot of the centre stage of English and world football. 
However, Kante's success hasn't changed him one bit. He remains grounded and softly-spoken, while he also still drives a white Mini Hatch to training as others drive supercars. Kante is a man who is easily shouted over, and perhaps isn't as marketable as the likes of Paul Pogba, but on the pitch he is dominant.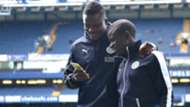 He dominates matches by always being on the move and his development curve is continuing to arch upwards as he arrives to one of the world's elite clubs, for the very first time. Since leaving Leicester, he has had to make adjustments to his game, operating in new areas and with more possession. 
On top of his work-rate, tackles and interceptions, Kante has improved his passing and movement at Chelsea. He ranks the fourth highest in the Premier League for passes played, so far this season, and is getting forward more than ever under Antonio Conte.
His impact has been huge so far and added a goal in the game that gave Chelsea the belief that they could win the title. Kante completed the scoring in a 4-0 win over Manchester United which was seen as a pivotal match for Conte's men to get their confidence back after a poor season, last time around.  
In fact, the Blues boss has improved many of his players already, in such a short time at the club and has been challenging Kante to add goals to his game since signing him in pre-season. This is still a work in progress, but Kante has met every challenge in his career with the best attitude and work-rate. 
The France international is happy in west London and he is continuing to write himself an impressive story at his new club, that has recovered from their woes of last season.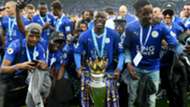 Kante is maximising his opportunities having almost fallen out of the game on many occasions - as a youth player in France at JS Suresnes - who were struggling to find him a professional club due to his height - until Boulogne came along. 
This may explain his calmness around a game dominated by social media personalities and haircuts. He had to be encouraged by his teacher to begin his career at 10 and even made back-up plans by getting an accountancy diploma, just in case his career didn't work out. 
Back in 2017, he has become a player who has won more points than anyone else (with 126 points) since coming to the Premier League at the beginning of the 2015-16 season.
His departure from Leicester has hurt the club who are languishing around the bottom of the table as they struggle to replace the remarkable attributes that saw him lead the charts in England for tackles, with 175 made, and interceptions, with 156 achieved. 
He has taken those attributes and applied them well at Chelsea, proving his aptitude for consistency. He has more tackles and interceptions than anyone else at the club, with 3.2 per-game and 2.7 per-game respectively, as Cesar Azpilicueta follows him closely behind. 
[ARCHIVES] Le milieu international @nglkante sous le maillot de la JS Suresnes au début des années 2000 pic.twitter.com/h01t6Ny3hK

— Ligue de Paris IDFF (@LPIFF75) July 21, 2016
After Diego Costa, Kante would be the hardest player to do without as Chelsea as they chase their own unlikely Premier League title, so soon after the malaise of last season. 
Riyad Mahrez won the PFA Player of the Year award last season as Leicester won the title and Diego Costa would likely take the crown if he fires the Blues to the title, but Kante could count himself unlucky to not be the winner, if he goes on to take his second title in two years.
After 15 years in football, Kante is finally getting the glory he deserves and despite the fact he is now known to the rest of the Premier League, there is not much anyone can do to stop him as he continues to develop at an alarming rate.