NPFL
Ngozi Elechi unmoved by Go Round's ultimatum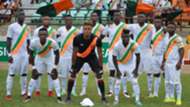 Ngozi Elechi has refused to get distracted by the three-match ultimatum placed on his technical crew following his side's 1-0 triumph over MFM FC at the Krisdera Stadium. 
Before Wednesday's tie, Soni Uboh led management issued the ultimatum to the coaches to either improve the team's fortunes or face sack after their failure to win in last five outings.
Meanwhile, Ebuka Akobundu's 50th-minute header was all the relegation-troubled hosts required to secure their first win in six matches and ease the pressure on the under-fire gaffer.
And Elechi, who is happy with their win, insists he is focused on keeping his job and making success at the club as he shifts his sights on gaining a decent result in Nnewi against Ifeanyi Ubah.
"My heart is still hundred percent with the club and I need to concentrate and do my job," Elechi told media.
"I'm happy with our victory [against MFM FC]. It was tough but we pulled through. Before now, we've not won in five games but I believe that the win will boost our confidence going to coming games.
"We are planning to go to Nnewi to get a result. We have always been prepared for this [three-match] ultimatum and can only thank the owner for the opportunity given to me.
"I led the club from Nigeria National League to the top-flight and can never forget that."
The win took Go Round out of the relegation zone to 16th on the log with 23 points from 19 games this season.