Manchester United
New Man Utd side 'massive' for women's football - Stoney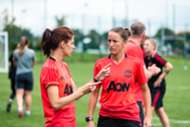 It has been a long wait, but Manchester United finally make their debut in women's football on Sunday and head coach Casey Stoney believes that the club's arrival is a "massive" boost for the sport.
While the Women's Super League has seen increased attention in recent years and the exploits of Great Britain's Olympic side in 2012 drew record crowds, United had remained estranged from the sport until the decision earlier this year to apply for entry in the Women's Championship.
On Sunday they play their first competitive fixture when they travel to Tranmere's Prenton Park to face Liverpool in the Continental Tyres League Cup. And Stoney, who brought together a brand-new squad of 21 players for the first time less than six weeks ago, insists that United's participation is an incredible fillip for the women's game on a global scale.
"It's massive," Stoney told Goal. "People have been waiting for it for quite a while and I understand now, having been in the club, why they didn't do it earlier because they didn't feel in a position to be able to do it properly.
"This club doesn't do anything unless it's done properly, and in five-and-a-half weeks the level of support, the level of care, the level of detail that goes into supporting me and the players is something I've never ever experienced being in the women's game."
The 36-year-old, who numbers Arsenal, Chelsea and Liverpool among her former clubs as a player and represented England in 130 internationals, says that United won't be starting on the back foot despite their whirlwind formation over the summer.
"Do you know what, if I was at a different club, probably. But because I'm here, and the support around me and the level of support I've got from everybody in the club, I feel like we're prepared," she added. "Yes, I was more than aware we're bringing 21 players, complete strangers, and all my staff [together], but we've done an awful lot of work in pre-season away from the pitch.
"Team activities have been extremely challenging, we've invested in the person as well so we've done a lot of sharing our journeys, sharing our stories and getting to know people because I'm a big believer that your experiences shape you as a person."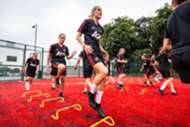 United enter the English league at the second tier, with their first FA Women's Championship fixture coming on September 9 when they travel to Aston Villa. But Stoney is looking forward to her squad being tested by top-tier opposition in the League Cup first, with Sunday's trip to Liverpool being quickly followed by their inaugural home fixture against Reading on August 25 at the Leigh Sports Village.
"I'm really pleased, because we're actually playing teams in the division above and my players want to challenge themselves, and we want to challenge ourselves as staff to be able to compete with those sorts of teams. So I think it's great that we've got two fantastic games against some of the best players in the country to see where we're at as a team after five-and-a-half weeks."
And as for facing Liverpool, of all clubs, in their first-ever fixture?
"It couldn't be more dramatic could it? In terms of the rivalry, the fact that seven of my players used to play there, I used to play there… The only more perfect thing would be if it was a home game for us.
"We're massively looking forward to it, we're really excited. We know they're in the tier above us so the pressure will be on them to win, but I know Man Utd fans won't accept it if we don't win."
Women's Team Season Tickets are on sale at £39 (just £20 for U16s/65+). This price includes home cup games (except semi-finals / finals if applicable).
Match tickets are also on sale to see Manchester United Women's first home game against Reading FC Women. Tickets are priced at £5 (just £2.50 for U16s/65+). Visit www.manutd.com to purchase tickets.