World Cup
Neuer should not have been picked for the World Cup, blasts Strunz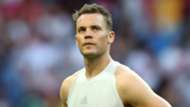 Thomas Strunz has criticised Germany head coach Joachim Low's squad selection for World Cup 2018 and has pinpointed Manuel Neuer as a player who should not have gone to Russia.
Low courted controversy with his panel, notably leaving out Manchester City star Leroy Sane, who was named Premier League Young Player of the Year for 2017-18. 
He also made the bold step of picking Neuer, who had spent the majority of the campaign on the sidelines and had not played a competitive match since September.
The Bayern Munich goalkeeper was not at his best and was left red faced as South Korea hammered the final nail into Germany's campaign when he made a foray upfield, gifted possession away and Son Heung-Min tapped into an empty net to make it 2-0.
Strunz did not go easy on a player considered one of the best in the game in his position.
"Low should not have picked Manuel Neuer because it has led to an absurd situation," he wrote on Sport1.
But the shot-stopper's presence was not the only issue that the Euro 96 winner had. He took aim at Ilkay Gundogan and Mesut Ozil, both of Turkish heritage, for posing for photographs with controversial president of Turkey, Recep Tayyip Erdogan.
"You should have had the courage to not call up Ilkay Gundogan and Mesut Ozil. Just imagine Thomas Muller or Neuer taking a photo with an AfD politician," he said, referencing a German political party on the far right of the spectrum.
"The DFB officials have damaged the reputation of Germany in this respect." 
Germany exited the World Cup at the first hurdle for the first time since 1938, having suffered defeat to Mexico as well as the Asian side.