Nathan Aké
Nathan Ake's loan recall was "the right decision," says Antonio Conte
Antonio Conte insists that his decision to recall Nathan Ake from Bournemouth was the right one, as Chelsea prepare to face Eddie Howe's side on Saturday. 
Pep & Chelsea in tunnel bust-up
Ake was recalled from his loan deal in January after he put in a string of impressive performances for Bournemouth in the first half of the season. 
However, since his return to Stamford Bridge, Ake has made just two appearances due to the intense competition for places in Chelsea's defence.
Ahead of the Premier League leaders' weekend trip to Bournemouth, though, Conte still thinks he made a good decision in bringing back the 22-year-old. 
"Yes, I think this was the right decision," Conte told a news conference at Cobham Training Centre. "For us it was the right decision for him to stay in our squad. Also because, for us, it's important to check our players and then to see the improvement.
'Lukaku will cost Chelsea £90m'
"We find a player who is able to stay in the squad, to give him the possibility to show me and the club their capacity, so why not? I'm happy to have Nathan with us. It's not easy when you arrive and you have, before you, five central defenders who are really good.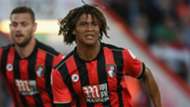 "But I'm pleased with his commitment and his attitude. He's a good player. It was right to bring him with us in this season."
Meanwhile, Howe refused to criticise Chelsea over their handling of Ake but admits that he was disappointed to see the Dutch defender leave the Vitality Stadium. 
WATCH: Costa causes havoc with a tractor
"The first thing I would say is that we are very thankful to Chelsea for loaning him to us in the first place," Howe told the media ahead of Chelsea's visit. "I think there has to be that element of trust that we are going to look after one of their brightest prospects, so we are very appreciative of the loan.
"We were of course disappointed to lose him because he was an integral part of our team but that's Chelsea's right. He's their player. They could recall him and I've got no problem with it.
"It impacted on us at that time and we've missed him, not just on the pitch but off the pitch because he's a great lad and he fitted so well into our team.
"They did what they felt was right for him and for their club, so I've got no problem with it."