Mustafi makes promise to Arsenal fans: I'll give you everything on the pitch
---
EXCLUSIVE
---
Arsenal defender Shkodran Mustafi has praised the club's supporters and says that he wants to repay their love for the club by "giving everything" on the pitch.
The 24-year-old is currently unbeaten since joining the Gunners from Valencia this summer, having formed a solid partnership alongside stand-in skipper Laurent Koscielny in the centre of defence.
Mustafi considers it a small part of his job to give back to the supporters by putting everything into his performances on the pitch.
"You have to respect the fans a lot," the German told Goal. "They're not earning the money we are earning and pay to come into the stadium, sometimes away trips, plus transport.
"It shows you how much they love this club and you have to give them respect for that.
"What I can give them back is trying to give them everything back on the pitch. As long as I work for the club that they love, I'm just going to give everything, so I'm happy with myself and make people happy."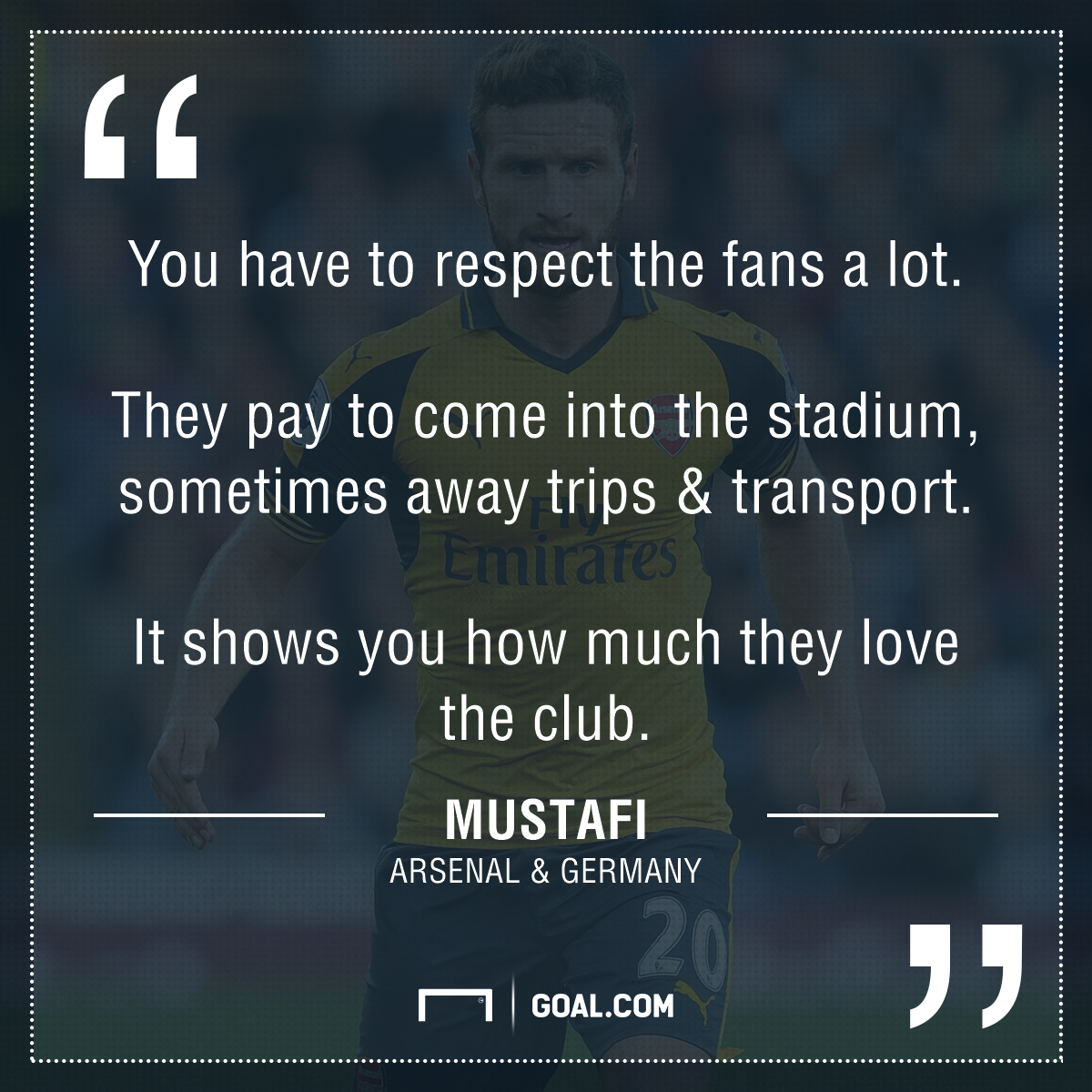 Supporters tend to warm to hard-working players who show passion in their performances and Mustafi has yet to be involved in a defeat for his new club since signing for them in August.
Humble and down to earth, the Germany international admits that he continuously reminds himself of his "special" position and gets "angry" at thinking that he could have done more in a game.
Arsenal disappointed me, says Vieira
"Even if you play bad, as long as you know that you gave everything and the people see that, it makes a huge difference," he explained.
"I try to give the people what they want back because they're not asking that much. There's nothing worse than playing a game thinking: 'We lost but I could have done more.'
"This is something that makes me so angry that I started a few years ago to think 'this is your opportunity, you have to give everything because you only have 10-12 years and then it's finished'.
"'Enjoy these years doing what you love to do.' When you go into a routine every day, driving to training, going home, doing interviews, it becomes something normal but you have to remind yourself that it's not - it's something special."