Muhoroni Youth confirm receipt of KPL letter
Stafford Ondego/Goal Kenya.
Muhoroni Youth have confirmed that they have received a letter from Kenyan Premier League Limited with their name included as participants of the league after Football Kenya Federation expelled them.
On Thursday, the federation announced that Muhoroni Youth and Sofapaka were dropped to second tier league for failing to comply with Caf Club Licensing requirement and the void filled with Vihiga United and KCB.
KCB, Vihiga United promoted to KPL
However, barely a day later, the league managers (KPL) wrote a letter labeled 'To Whom It May Concern' asserting that the two (Muhoroni Youth and Sofapaka) will take part in the 2017 season.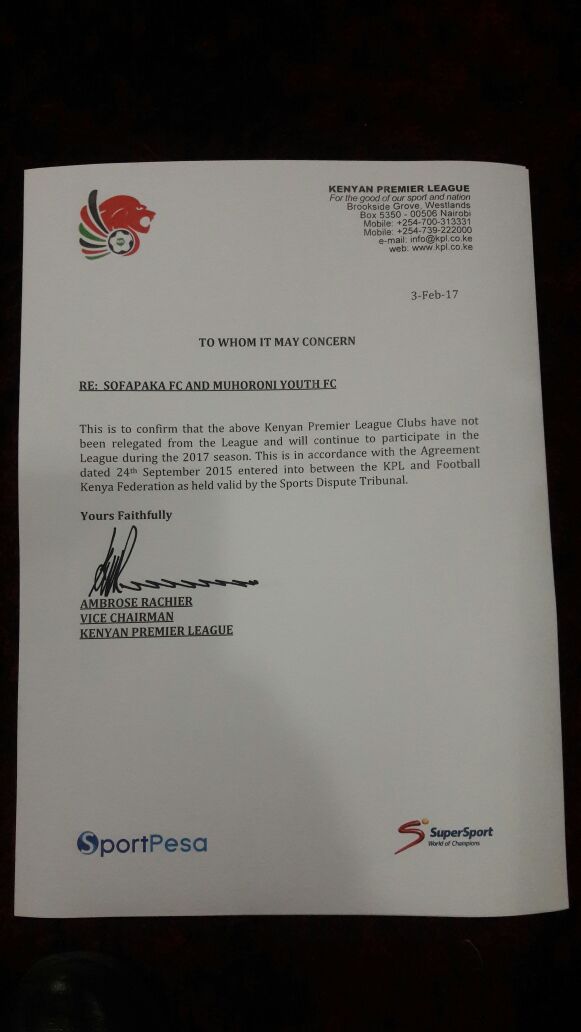 Muhoroni Youth chairman Moses Adagala has told Goal that he has the letter and that the federation has no mandate to relegate any team from KPL. He even disclosed that they have been provided with fixtures from the mangers, a clear indication that they are in KPL to stay despite the federation's announcement.
FKF release January transfer list
"We have received a letter from KPL confirming that we will take part in the league (KPL). FKF is simply out to kill the country's football with cheap politics and I think that should never be the way to go. We have fixtures and my team is busy preparing for our first match which will be at home."
Elsewhere, Sofapaka have also vowed to fight tooth and nail until they feature in the Kenyan Premier League.