Premier League
'Moyes cannot get away with these sexist threats' - Outrage over Sunderland manager's 'slap' joke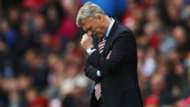 Sunderland manager David Moyes has found himself in trouble with the FA and Sunderland after making controversial comments to a female BBC reporter.
The former Manchester United boss made the comments after Sunderland's 0-0 draw with Burnley, telling Vicki Sparks: "Just getting a wee bit naughty at the end there so just watch yourself. You still might get a slap even though you're a woman."
Moyes apologises for reporter slap threat
Moyes' comments have been condemned by the UK's Shadow Sports Minister Dr Rosena Allin-Khan and former England international Gary Lineker among the biggest names criticising the Sunderland boss.
Plenty of fans on Twitter have also been outraged at Moyes's comments, despite the Sunderland boss apologising for any offence caused.
This is disgraceful. David Moyes cannot get away with these sexist threats - the @FA must take action immediately. pic.twitter.com/kcMSQFmI7g

— Dr Rosena Allin-Khan (@DrRosena) April 3, 2017
Moyes incident highlights a tendency for some managers to treat interviewers with utter disdain. Pressured job. Well rewarded. Inexcusable.

— Gary Lineker (@GaryLineker) April 3, 2017
Nobody would expect Moyes to be sacked for what he said if Sunderland were top half and that's the most disturbing thing of all.

— HanoiToon (@HanoiToon) April 3, 2017
How anyone can defend Moyes is beyond me. Been disgusting in every aspect since he came.No way he will bring us back up. #moyesout #safc

— Dan Coates (@Dancoat1982) April 1, 2017
An apology from David Moyes is one thing. But not saying such sexist claptrap in the first place would be better. https://t.co/vBioiOT0s5

— Mary Williams (@marymaryw) April 3, 2017
Some have decided to make light of the incident, trying to find a funny side in Moyes' sexist and unprofessional comments:
David Moyes. pic.twitter.com/J3nIw0Yz9Y

— Paddy Power (@paddypower) April 3, 2017
Spring 2013 - Moyes becomes Man Utd manager

Spring 2017 - Moyes takes Sunderland down & offers a woman a slap.

How the average have fallen

— Sachin Nakrani (@SachinNakrani) April 3, 2017
David Moyes: "You still might get a slap even though you're a woman" pic.twitter.com/TVPuoxEnlH

— SlashFootball (@slashfootball) April 3, 2017
David Moyes threatening to slap that reporter is the kind of attacking intent Sunderland have been missing all season tbf.

— --George Clapp (@GeorgeClapp) April 3, 2017
While many others on Twitter simply do not see what the fuss is about.
Maybe just me? I've heard the David Moyes conversation with female journalist & it's nowhere near as bad as being reported. Faux outrage.

— Rachel Lynch (@Rachel_Lynchx) April 3, 2017
Just heard the David Moyes clip. Obviously a joke - both parties were laughing - PC brigade should grow up and get a life!

— Kevin Beaumont (@sussexterrier) April 3, 2017
I'm missing something about this Moyes controversy? Silly comments, he and the reporter shared a laugh, and that's it?

— Rafael Hernández (@RafaelH117) April 3, 2017
Moyes' relegation-threatened Sunderland travel to Leicester City on Tuesday in search of their first win in two months.